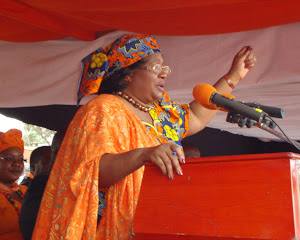 Probe my wealth says Joyce Banda, just declare your assets critics tell her
Joyce Banda on Tuesday welcomed an investigation into her wealth amid the ongoing saga of late President Bingu wa Mutharika's multi-billion kwacha estate.
But a political analyst has countered that there is no need for anyone to investigate the president's wealth. Instead, she should just make it known to the public herself.
"At this stage, it is difficult to start investigating her as if there is something that has happened, the president should just do the right thing by declaring her assets," said political analyst Mustapha Hussein.
Speaking during the launch of a housing project in Lilongwe, Banda said it was surprising that Mutharika accumulated K61 billion wealth at a time Malawians were wallowing in poverty.
"My fellow women are walking two miles in search of water, yet they only manage to draw dirty water. I cannot sleep because of such poverty. I was telling you what was happening. I didn't want to reveal everything.
"Now you have started hearing from the media that money that was taken out of this country, while we were in poverty. I will not let you suffer," Banda said.
In the past week, The Daily Times carried a series of stories detailing the wealth of the former president as contained in court documents filed at Zomba High Court.
According to an affidavit by Yeremia Chihana of YMW Property Investment and Registered Property Evaluator, Mutharika had wealth valued at around K61.2 billion.
Banda had digressed when making a point on her Mudzi Transformation Trust which she said would change lives of people in rural areas.
"I'm giving you a go ahead to investigate, wherever you feel like I have money. You should find out how much money I have.
"I believe in using what God gives me in uplifting other people's lives. I saw it right here in Malawi, that even if you have billions, you leave them behind when you die," Banda said.
But the Democratic Progressive Party (DPP) has wondered why people should be talking about Mutharika, ignoring corruption that is in the current government.
In his response to Banda's call for people to investigate her wealth, Hussein said the most important thing was for the president to declare her assets.
"The way to go is to take heed of the calls by the people to disclose her property. There are laws that require the president to declare her assets," he said.
However, another analyst Blessings Chinsinga said it was important that the president was ready and willing to be investigated.
"But another important thing was to work on the systems. We have a constitutional provision that requires a president to declare assets.
"We also have departments like Financial Intelligence Unit that investigates people if they have a lot of money in their accounts," he said.
Chinsinga said apart from the systems, it was important for this country to work on the political culture where the arms entrusted with enforcing the law do as mandated of them.