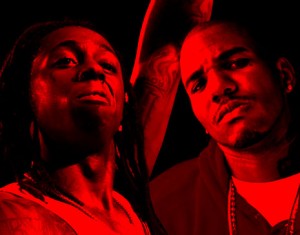 This morning (May 12), rapper Game premiered his banned-from-MTV-and-BET music video for 'Red Nation,' the Lil Wayne-assisted lead single off his chronically-delayed 'R.E.D. Album,' on VEVO and his website, ComptonGame.com.
Deemed too controversial for its subtle gang references — Game, who hails from Compton, was once affiliated with the notorious Bloods gang, and the use of red imagery and lyrical references was seen as a link to his affiliation — the television networks refused to air the footage. Not wanting to loose the "artistic integrity" of the music video, Game decided to move forward with premiering the content solely online. "I know that all my fans will still be able to find it," he reasoned in a statement released to media earlier in the week.
Ironically enough, for those not up on their gang facts and innuendos, the video doesn't seem to go barking up the wrong tree, so to speak. Directed by newcomer Parris, the 'Red Nation' video is similar in riot style to Jay-Z's 'Run This Town' with an angry mob shouting and holding up weapons around Game as he raps about all red everything — Cincinnati hats, the Russian flag, shoe laces and even Beats by Dre headphones. Lil Wayne, also donning some red gear, alley-oops with the censor-friendly refrain: 'Now Blood the f— up/ Everyday's a gamble motherf—er tough luck/ And we going to f— the world till that b—- bust nuts."
The BoomBox caught up with the Game during the video shoot, where likened the experience to "shooting a video for Puff Daddy." "I'm trying to deliver my lines," he explained of the high energy on set, "and these people are trying to break the gate and get at me; it felt real, so that's how I knew it was going to be classic."
'The R.E.D. Album' has no official release date, but Game promises the album will be out by summer. Get R.E.D-dy.

(Visited 53 times, 1 visits today)