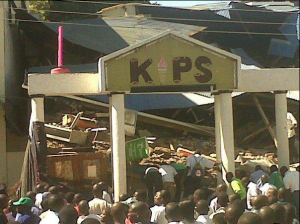 Malawi Voice reports; Multitudes of people in Blantyre City flocked to KIPS Restaurant along Hannover Street after its building collapsed with people inside . The building has badly collapsed that people have to been pulled out from under.
Eye witnesses at the place indicated that four people had so far being rescued and with injuries while others were still trapped were still under the rubbles.The accident happened this morning at around ten
The rescued people sustained head injuries and were rushed to Queen Elizabeth Hospital.
When Malawi Voice arrived at the scene found that people who were trying to rescue people could not afford to remove other huge materials and it had to take the police to consult FARGO and bring in their towering truck to help in pulling other people who are still trapped.
Police and other rescue people were at the place but could to give enough information when asked.
"Meanwhile the information is sketchy. We have just arrived and have not yet collected enough information regarding the accident," said Police Public Relations Officer Davie Chingwalu.
However, other informers said the building was under renovation and people were sent to other KIPS restaurants in the city.
Nevertheless it is said that there were construction workers and other KIPS employees at the place including the owners.
The building was under construction and people were not eating at the premises during this time, and those trapped in the building were few workers of the restaurant and other construction workers.
KIPS a popular ice cream parlour and restaurant in the comercial city is owned by Indians and one of the people rescued is said to be one of the owners.
By Limbikani Mhura
Subscribe to our Youtube Channel: