Lilongwe – An ageing one-storey building in Malawi's commercial capital of Blantyre collapsed on Tuesday, crushing three people to death and seriously injuring another 18, police said.
The building, which housed a popular restaurant, was under renovation.
"I can confirm that three people have died, including the owner of the restaurant," police spokesperson Davie Chingwalu told reporters.
He said 18 people, mostly staff, were rushed to several hospitals in the city.
The popular Kips restaurant had not opened when the incident occurred at around 9am.
Chingwalu said work to remove the pile of rubble was "taking too long" because there was only one grader.
The incident, in downtown Blantyre near the offices of the central bank, drew hundreds of onlookers in the small city, choking traffic.
President Bingu wa Mutharika ordered army troops to help remove debris and rescue any people still trapped in the rubble. – Sapa-AFP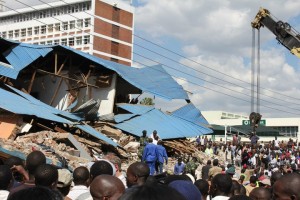 Subscribe to our Youtube Channel: