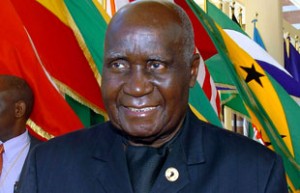 A jovial former Zambian president, Kenneth Kaunda and fellow ex-Botswana leader Festus Mogae jetted into Lilongwe, Malawi, yesterday for a five-day visit. The duo are members of the Champions of HIV Free Generation campaign advocates.
Their engagements will among many include a number of official engagements across the country including an audience with the HIV and AIDS Committee of Parliament on May 28th. They will also plant tress on the Western side of the new Parliament Building in the capital's city centre.
Parliamentarians were afore warned about the visit by Speaker of the National Assembly, Henry Chimunthu Banda on Tuesday this week as he adjourned the House for the day's business. The two will engage the committee from 9.00am.
Kaunda, who openly talks about his son's death claimed by AIDS and Mogae who also sits on the UNAIDS High Level Commission on HIV Prevention grouping, have been to neighbouring Zambia, Tanzania, and Mozambique, Botswana, South Africa and Lesotho and were met on arrival by Principal Secretary in the Office of the President and Cabinet (OPC) Dr. Mary Shaba on arrival.
Their mission as campaign members, including ex-Mozambique leader Joaquim Chissano, former Tanzania president Benjamin Mkapa, South Africa's Anglican Bishop and Nobel Peace Prize Winner Desmond Tutu, is to convince leaderships across the region to adopt effective strategies and actions aimed at reducing the rate of new HIV infections.
The Champions of HIV Free Generation members target top government leaders, development partners and members of the civil society, to persuade them for an accelerated response to the AIDS epidemic.
Meanwhile the Southern African Development Community Parliamentary Forum – SADCPF (the Parliamentary Forum) , a regional inter-parliamentary organization established in 1997 under article 9 (2) of the Treaty of SADC, says: "The SADC region is the worst affected by HIV and AIDS in the world and Southern Africa remains at the epicentre of the epidemic. The population of SADC states is 3.5% of the world's population, yet constituting more than 37% of the world's people living with HIV and AIDS. This translates into an estimated 11.67 million to 18.820 million people living with HIV and Aids in the region," states the SADCPF on its website, www.sadcpf.org/hivaids/ .
"The overall adult HIV prevalence rate (15 – 49 years) in SADC is 19.4% compared with 7.5% for Sub Saharan Africa as a whole. However, there is a big variance of prevalence rates among member states ranging from Mauritius with 1% to Botswana and Swaziland in excess of 35%.
"The prevalence rate among women in the age group 15 to 24 years is more than twice that of their male counterparts in most SADC countries. Approximately six million children were orphaned due to AIDS at the end of 2003," adds the website.
Subscribe to our Youtube Channel: