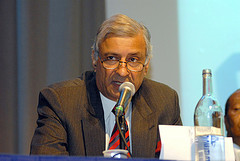 By Paul Canning
The leader of the Commonwealth, Kamalesh Sharma, has responded to criticism of him published in the Guardian newspaper by human rights activist Peter Tatchell.
Tatchell wrote that "the Commonwealth is a bastion of global homophobia."
He cited state-sanctioned threats and repression in Malawi, Uganda, Gambia, Malaysia, Cameroon and Nigeria.
Tatchell wrote that Sharma:
"Stands accused of a systematic, persistent and wilful failure to condemn homophobic discrimination and violence."
Sharma did not strongly condemn of Malawi's arrest and jailing of Steven Monjeza and Tiwonge Chimbalanga on charges of homosexuality last year, says Tatchell. He describes Sharma's criticism of Uganda's anti-homosexuality bill as "muted". He notes that Sharma has said: "The bill is now in the Ugandan parliament – in any Commonwealth country, that is exactly where such a national issue should be debated. Let us see what the people of Uganda decide."
Wrote Tatchell:
"This quasi-neutral stance is hardly what we expect when a Commonwealth member state is proposing to execute its own citizens for consenting, victimless behaviour."
"If the secretary-general can't robustly defend universal human rights and equality for LGBT people, he is unfit for high office and should resign."
In an article clearly responding to Tatchell for Kenya's Nairobi Star, Sharma claims that "human rights are a top priority in the Commonwealth."
He says that because the 2009 'Affirmation of Commonwealth Values and Principles', agreed by all Heads of Government includes the words "…for all without discrimination on any grounds…" this includes discrimination on grounds of sexual orientation.
Sharma points out that change on attitudes to homosexuality in the UK has been gradual – and he cites the anti-gay tactics used against Tatchell's candidacy in the infamous Bermondsey parliamentary by-election in 1983.
"Considering that the vast majority of Commonwealth member countries are less than 50 years old it is remarkable how rapidly they have adopted the values and freedoms taken for granted in countries with far longer histories of self-determination," he writes.
Sharma claims that work is going on 'behind the scenes'.
"This sometimes leads to a perception that we are inactive or silent on certain issues. This could not be further from the truth."
He cites work on ratification of human rights treaties, aiding countries with UN human rights periodic reviews (which have consistently included questioning on LGBT rights), the establishment of various National Human Rights Institutions (NHRIs) and working with human rights NGOs.
He claims that:
"I have consistently made it clear publicly that we deplore hate crimes of any nature and the vilification and targeting of gay and lesbian people runs counter to the fundamental values of the Commonwealth."
Sharma appears to agree with Tatchell that countries are "challenged … with issues of unjust criminalisation found in colonial current domestic legislation."
"If attitudes are to change, if homophobia is to be challenged – as it should – and if laws on homosexuality are to be reformed the best hope lies in democratic and legal processes."
"The Commonwealth operates through encouragement not coercion. Ours is the helping hand not the publicly wagging finger used by others. That is how progress on human rights has been best achieved in the Commonwealth."
Sharma does not directly respond to Tatchell's criticism on Malawi or Uganda.
In his article Tatchell points out that Sharma has failed to respond to requests for meetings from himself and other LGBT human rights campaigners. Perhaps this apparent dialogue via article might be followed up with dialogue face-to-face?
Subscribe to our Youtube Channel: