Sales of the One Careplast plasters, designed by Bushey Meads pupils, are on sale in Co-op outlets and will help fund community projects in Africa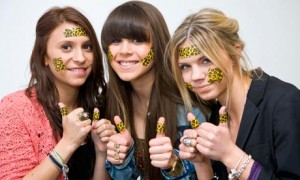 Budding teenage entrepreneurs could teach contestants on the BBC's The Apprentice a thing or two after a product they designed has gone on sale at a leading supermarket.
Packs of funky animal-print plasters aimed at children and designed by three students from Bushey Meads, a Hertfordshire high school, are being sold in almost 1,700 Co-operative outlets after the students impressed bosses at the Co-operative Group – and Doug Richard ofDragons' Den fame.
The One Careplast pack of plasters was the winning product in a nationwide competition to design the next One product for Global Ethics, whose range also includes One Water and One Eggs to fund community projects in Africa.
A-level students Emmie Rayat, 16, and Taylar Leak and Deryn Hertz, both 17, beat hundreds of entries to design a product that could be sold in the UK to help those most in need in Malawi, south-east Africa.
Sales will fund the purchase of medical kits and bicycle ambulances for rural communities, which might be up to 15km away from the nearest health centre and where medical supplies are often unavailable. Bicycle ambulances let healthcare volunteers travel large distances on otherwise inaccessible roads to reach patients in remote villages. They take an average of 25 patients a month to hospital, including pregnant women. The medical kits make sure first aid treatment is available promptly to communities of about 1,000 people.
Rayat said: "We're delighted our product is going on sale in so many Co-operative outlets across the country. We were shocked to discover that the life expectancy of someone living in Malawi is 43 years, which is younger than some of our parents and incredibly young compared to people in the UK. We are looking forward to the trip to Malawi and to seeing the communities that have benefited."
Peter Marks, group chief executive of the Co-operative Group, helped judge the competition. He said: "The students certainly did their homework and showed real enterprise. They pitched their idea perfectly – from the animal designs on the plasters to the powerful messages on the packaging, it all linked back strongly to funding medication, staff and other healthcare in Malawi."
Duncan Goose, chief executive of Global Ethics, which donates all its profits to projects in Africa, said: "One Careplast is a fantastic concept – the students at Bushey Meads have come up with a great product that will help some of the poorest people in Malawi when they are most in need."
The One Careplast plasters cost £1.39 a pack and will be available exclusively in Co-operative food and pharmacy stores, which will donate 15p per pack to Global Ethics.
SOURCE : THE GUIDIAN
Subscribe to our Youtube Channel: