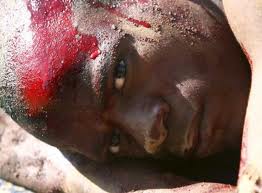 Johannesburg – Two men were arrested on Monday for allegedly beating to death a Malawian man outside a pub in Broederstroom in the North West, police said.
A third man allegedly involved in the attack was still at large, Brigadier Thulane Ngubane said.
The three were at Sundance Village Pub on Sunday when "one of them uttered a serious apartheid racial insult to kill a black person".
Just after 19:00 the men left the pub on foot and came across 51-year-old Mkwinda Adam Makanjira.
"Allegedly one of the men grabbed a wooden object and attacked him, leaving him there in cold blood. A witness… watched helplessly when the victim's face was crushed."
Police found Makanjira on his back with a Bible lying nearby.
The two, aged 23 and 26, were expected to appear in the Hartbeespoort Magistrate's Court on Wednesday.
– SAPA
Subscribe to our Youtube Channel: