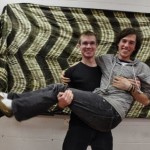 Hey folks,
I'm nearing the halfway point of this trip, and this week I'll be at the mid-way retreat where I'll be reflecting on my placement and research so far, and catching up with the other JFs. I'm going to take the week off from writing blogs, and present this to you instead. I hope you enjoy a typical day (in pictures)!
—–
What does a day look like for me here?
Well..
Sleep is usually starts at 8:00pm and goes until 5:00am, or 5:30am, or whenever the roosters decide I've had enough. So, when it's time and I can overcome the fear of stepping outside into 12 degree weather, I throw on my sweater, and head outside.
This is embowla. Before cooking, we throw charcoal in the top and light it up with a plastic bag. Sounds strange at first, but it's the most efficient way of fire starting that I've seen anyone use. You're welcome, environment.
Madalitso is lucky enough to have a private tap. Just like in most of Canada, the water is metered, and you pay a cost for what you use. For my neighbors, they have 7 different houses sharing a single tap. According to Malawi standards, up to 120 people can be served by a single tap! That must be really, really tough.
After lighting up the embowla, we grab a pot of water for tea, and a metal bucket of water to shower with.
Breakfast consists of bread, peanut butter (sometimes), fruit (sometimes), and tea!
As we get ready for the day, Madalitso and I throw some tunes on using my laptop. Our favorites are anything from Zambia, Bedouin Soundclash, and Arcade Fire.
Typically, Malawi office settings are very professional, so shining your shoes everyday is a must. It's become a ritual, and makes you feel awesome.
I'm usually too lazy to iron, but if I wanted to, I would use this. You fill this metal iron with burning hot charcoal, which heats it up very quickly. This is a great, electricity-free way to make you look sharp for the office!
Time to walk to work. This is the bridge that I cross everyday, with a beautiful view of the mountains. This river has crocs – samalira! (be careful!)
Some days I spend in the office. This is my desk. You'll notice my bicycle and motorcycle helmet (safety first!). Office days are spent compiling data, blogging, reading documents, or helping out with tech support around the office.
Some days I spend in the field. On this day, we were cross checking forms that had been completed by Water Monitoring Assistants who were assessing the condition of boreholes.
By popular request, I gave my attempt at filling a bucket of water using the Afridev pump. It was tough, but I finished.. eventually. They also felt it very necessary to capture this one in a photo.
After work, we cook dinner. Because we don't have electricity, we take use the flashlight at the top of the cellphone, and put the cellphone in our mouths to have a hands free system. This is my favorite meal – soya pieces and tomatoes. The pot in the back left will be used to cook nsima.
Madalitso cooking up some tasty soya pieces. After dinner, we wash the dishes, shower, and head to sleep at the late hour of 8:00pm.
That's all for now. Let me know if you have any questions.
Be well, and much love.
Kev
Subscribe to our Youtube Channel: