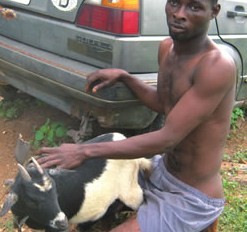 Robert Wisikoti, a 26-year-old
tobacco estate labourer in
Malawi's central district of
Dowa who had sex with a
goat was jailed for two years
for bestiality.
The Mponela First Grade
Magistrate sentenced the
young man to two years
imprisonment with hard
labour after he pleaded guilty
to the offence.
The young man was caught
naked romping the goat by
the owner of the livestock,
Elijah Chawinga.
According to Chawinga, he
had tethered his goat at a
nearby bush when he heard a
strange noise from where his
goat was.
"When I rushed there I found
my friend naked and busy
with the goat, his manhood
was inside the goat while he
held the goat's rear legs
tightly," Chawinga told Nyasa Times in an interview.
"I reported the matter to
police and they arrested him.
He pleaded guilty and was
given 24 months by the
magistrate," he added.
Bestiality is contrary to
section 153 (B) of the penal
code and carries a maximum
sentence of 14 years
imprisonment with hard
labour.
However, the court exercised
leniency on Wisikoti because
he pleaded guilty to the
offence.
Wisikoti, who is married,
comes from Msakambewa's
area in the district, according
to Chawinga, who is also a
labourer Monjezi Estate in the
same area.
In another development,
Police in Likoma on Sunday
arrested a 20-year- old man
George Mlandeni after he was
found having sex with a she
goat and charged the suspect with bestiality.
Northern Region Police deputy
spokesperson Ian Kanyama
said Mlandeni took advantage
of the goat which was
tethered for grazing at a
nearby bush at Mwase village.
The goat belongs to James
Mtenga of the same village
but at the time of the incident
had gone fishing in Lake
Malawi.
"His son got surprised with
the unusual bleating of the
goat and decided to check.
That is when he found
Mlandeni with parts down
having sex with the goat. He managed to run away but
was caught after villagers
instituted a man hunt,"
Kanyama said.
He said a physical assessment
by Police and medical
personnel revealed traces of
sperms on the goat's
reproductive organ and goat
hair was found in his underpants.
(Visited 213 times, 1 visits today)