Zimbabwe has failed to pay back to Malawi a balance of US$22 million (MK3.4 billion) from a loan of US$100 million which Zimbabwe borrowed from Malawi in 2007 for the purchase of maize from the country.
The Malawi government, which underwrote the loan issued by the Reserve Bank of Malawi, has also failed to settle the amount with the local central bank as agreed under the guarantee agreement, according to the Daily Times.
The loan was given in very questionable circumstances.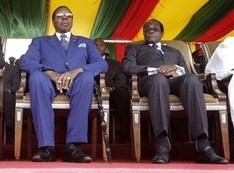 The Reserve Bank of Malawi in its Report and Accounts for the year ended 31st December 2010 reports that:
"In June 2007, the Government of Malawi through the Reserve Bank of Malawi ("RBM") agreed to lend the Government of Zimbabwe, through the Reserve Bank of Zimbabwe ("RBZ"), 100m United States Dollars for the purpose of importing maize from Malawi. The loan agreement was rescheduled in December 2009 to run up to 31 December 2010.
"The Bank considered the recoverability of the loan as being doubtful owing to a number of times RBZ has defaulted on the payment of the principal plus interest, and subsequently impaired the loan as at year-end."
This effectively writes off the loan, as if Malawi has now come of an age to start writing off loans along the lines of the Highly Indebted Poor Countries (HIPC) Initiative of which Malawi was not too long ago a beneficiary.
Ironically, the central bank says it remains optimistic that the Malawi government will continue with its efforts to recover the loan with their Zimbabwean counterparts.
This is a very sad development and it borders on gross economic mismanagement when one considers that Malawi is facing all sorts of challenges with among other things, erratic provision of essential and strategic goods and services.
Further, Malawi's public external debt at the end of 2010 jumped 11 percent to $846.2 million (about K127 billion) from $762 million (about K114 billion), representing 16.5 percent of the nation's gross domestic product (GDP).
According to the Daily Times report, the amount lost to Mugabe's Zimbabwe would suffice to buy fuel for the country to cover about 3 weeks of its requirement or 680,000 bags of fertilizer at the commercial retail prices of K5,000 per 50 kilogramme bag.
This deplorable development is one of the many that has prompted critics to question whether indeed Malawi is in good hands or on track economically. The MK3.4 billion that Malawi has just written off is one percent of the projected revenue in the so called zero deficit budget.
That Malawi can afford to donate MK3.4 Billion to Zimbabwe which has better developed infrastructure, agriculture and industry, is an insult not only to Malawi's own poor but all the tax-payers who foot the bills arising from such misguided policies. –(Reporting by Garvey Karvei, Nyasa Times)
Subscribe to our Youtube Channel: