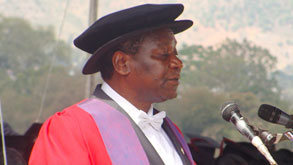 Polytechnic lecturers on Tuesday joined their Chancellor College (Chanco) counterparts in rejecting the latest call by the University of Malawi (Unima) Council for them to return to work unconditionally.
And, in a related development, the United Democratic Front (UDF) has asked Minister of Education, Science and Technology Professor Peter Mutharika to get involved in resolving the stalemate or accept failure to manage the ministry.
Polytechnic (Poly) and Chanco were scheduled to reopen on Monday following President Bingu wa Mutharika's call for all parties to the impasse to strike a win-win solution to the academic freedom saga.
The Poly lecturers' decision comes barely two days after a Unima Council delegation told journalists in Blantyre that dialogue between Poly and the council succeeded with an agreement to reopen on Monday as scheduled.
Unima Council chairperson Professor James Seyani, who led the delegation, said the Polytechnic lecturers' demand to reinstate four dismissed Chancellor College Academic Staff Union (Ccasu) leaders was rejected by council and that "it was the only major concern against resuming of teaching for some members of staff".
But in a letter to Seyani on Tuesday, signed by legal adviser to the Polytechnic Academic Staff Committee on Welfare (Pascow), Luscious Kakwala, the staff said they unanimously agreed to put on hold the resumption of classes until all outstanding issues are fully resolved.
"Your response has not addressed staff members' fourth demand that there should be no reprisals/casualties emanating from this stand-off as evidenced by your insistence on the dismissal of the four colleagues at Chancellor College," reads the letter.
Kakwala said it is not true that the lecturers stopped teaching between March and June 2011 but that council closed the college on April 1 2011 after the staff voted to go back to class on March 28 2011.
Polytechnic Students Union (PSU) president Evance Mmora Tuesday said registration has started. However, he said he had not received any communication on Pascow's latest stand. He said it was their expectation that the matter would be resolved to enable them return to class.
Meanwhile, speaker for the Students Union of Chancellor College (Succ), Francis Kaduya, said students were welcomed by their college principal at a meeting Tuesday afternoon and that registration was underway. He said classes were yet to start.
In a related development, UDF secretary general Kennedy Makwangwala and deputy publicity secretary Ken Msonda have accused the President of not being honest when he directed the reopening of the two colleges.
"The UDF is left with the impression that President Mutharika was not genuine when he decreed that the stand-off should be resolved because the Unima Council would have listened to the call by the Head of State," reads a UDF statement.
UDF also says the union leaders should not be used as sacrificial lambs on matters relating to academic freedom nor should the students suffer the unintended consequences of the stand-off.
The impasse was ignited by Inspector General of Police Peter Mukhito when he summoned associate professor Blessings Chinsinga over an example he gave during his public policy class. The lecturers started boycotting classes and demanded an apology from Mukhito and an assurance of academic freedom.
Subscribe to our Youtube Channel: