Australia have won it 58 – 44 Malawi | Netball World Championships 2011 Singapole
Well done Malawi. Have a Safe Flight back home.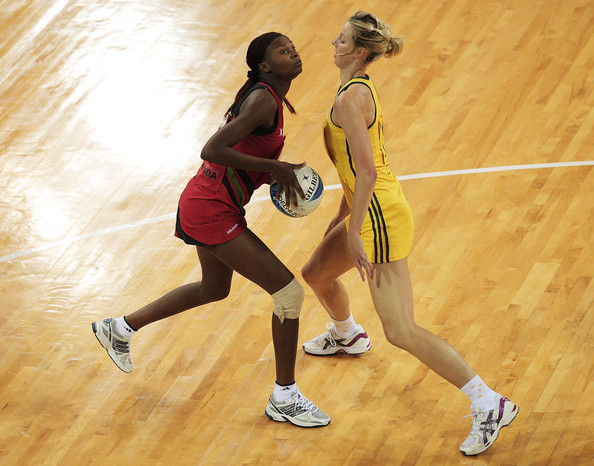 MATCH REPORT: AUSTRALIA v MALAWI
The third semi-final spot has been filled by Australia after they valiantly pushed through to defeat Malawi 58 to 44 in the third Quarter Final today.
Another top team to experience a tough win in the finals stages of the competition, Australia looked in control for the majority of the game, trying new combinations to find a rhythm, but at times they struggled to ebb the flow of Malawis attacking line-up. Both shooters to take the court, Catherine Cox and Caitlin Bassett, were invaluable to their team – this was Caitlin's fourth game shooting at 100%. Laura Geitz, who came on in the last quarter, added some spark into the Australian backline, pulling off some amazing intercepts and turning the ball over for her team when it mattered most, stemming the Malawi comeback.
Malawi pulled out an inspired response in the last quarter, showing commitment and flair, especially on attack. Goal Attack Sindi Simtowe was a pleasure to watch as the angles and cuts she created in the shooting circle were second to none. Her combination with Mwayi Kumwenda was dazzling; as the high arching pass by Simtowe was pulled in by Kumwenda who hung in the air for what seemed like an eternity.
Player of the Match: Natalie Medhurst
Quarter and Progressive Scores:
Quarter Scores
Q 1
(progressive)
Q 2
(progressive)
Q 3
(progressive)
Q 4
(FINAL)
AUSTRALIA

13

13
15
28
16
44
14
58
MALAWI

6

6
11
17
14
31
13
44
Match line ups:
| | | | | | |
| --- | --- | --- | --- | --- | --- |
| AUSTRALIA | Quarter 1 | Quarter 2 | Quarter 3 | Quarter 4 | Shooting Stats |
| Catherine Cox | GS | GS | – | GA | 16/20 (80%) |
| Natalie Medhurst | GA | GA | GA | – | 21/24 (88%) |
| Erin Bell | – | – | | WA | |
| Natalie von Bertouch | C | C | C | – | |
| Mo'onia Gerrard | WD | WD | WD | – | |
| Julie Corletto | GD | GD | – | WD | |
| Laura Geitz | – | – | GK | GK | |
| Caitlin Bassett | – | – | GS | GS | 21/21 (100%) |
| Susan Fuhrmann | GK | GK | – | – | |
| Kimberlee Green | – | – | WA | C | |
| Sharni Layton | – | – | GD | GD | |
| Chelsea Pitman | WA | WA | – | – | |
| | | | | | |
| --- | --- | --- | --- | --- | --- |
| MALAWI | Quarter 1 | Quarter 2 | Quarter 3 | Quarter 4 | Shooting Stats |
| Mwayi Kumwenda | GS | GS | GS | GS | 21/27 (78%) |
| Sindi Simtowe | GA | GA | GA | GA | 23/30 (77%) |
| Beatrice Mpinganjira | WA | WA | C | C | |
| Bridget Kumwenda | C | C | WA | WA | |
| Grace Mwafulirwa | GK | GK | WD | WD | |
| Caroline Mtukule | GD | GD | GD | GD | |
| Towera Vimkhumbo | – | – | GK | GK | |
| Ellen Chiboko | – | – | – | – | |
| Florence Chirwa | – | – | – | – | |
| Joanna Kachilika | WD | WD | – | – | |
| Tina Kamzati | – | – | – | – | |
| Joyce Mvula | – | – | – | – | |
Umpires: Bronwyn Meek and Joel Young-Strong with reserve umpire Jonathan Bredin
Subscribe to our Youtube Channel: