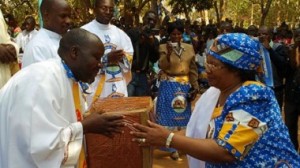 KASUNGU—Malawi is facing tough economic times and the situation will get worse, thanks to Malawi's inept and arrogant leadership which is causing hardship to millions of poor people, says Malawi's Vice President Joyce Banda.
Speaking at a rally here in Kasungu, Banda said unless the government changed its know-it all attitude and stopped insulting donors and buyers of tobacco, the country's top foreign exchange earner, the economic hardship will worsen by December.
The vice president said the economy was losing jobs as businesses are failing to operate due to a lack of fuel and foreign exchange.
"I don't want to come back here and say I warned you," she said, adding that she wasn't day-dreaming but speaking the truth and from experience.
She deplored bickering among political leaders, saying the "madness" doesn't help but hurt the poor.
"We need to start finding solutions," she said.
Malawi should come up with programs that would put the youth to work and help women with income generating activities, Banda said.
But Kasungu wasn't left to Banda alone to have a field day. Finance Minister Ken Kandodo who is also a parliamentarian addressed a meeting and told his constituents that the government was working to improve their lives, citing road improvements and construction of a new stadium.
Kandodo was joined by Trade Minister Eunice Kazambe who said the government was aware that tobacco wasn't doing well at the market and that it had set aside K1.6 billion for alternatives such as tobacco and soya beans.
On Saturday, both Kandodo and Banda attended mass celebrating Chiphaso Catholic Parish's 75th anniversary here in the district.–maravipost
Subscribe to our Youtube Channel: