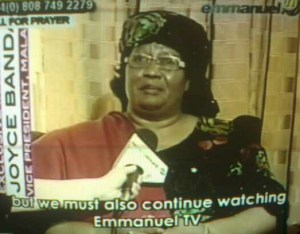 Malawi President Bingu wa
Mutharika told his party's
Nationals Governing Council
meeting on Sunday that he
has banned protests planned
for Wednesday 20 July, 2011 and hinted that he will be
arresting Vice President Joyce
Banda.
In a meeting held at New
State House in Lilongwe it was
proposed that the Vice
President should be nicked
because she is attacking
government on various social and political issues, yet she is second –in-chain of command.
Well-placed sources who
attended the meeting told
Nyasa Times that Mutharika
commented for the proposal
by saying: "I am already
working on it."
This follow an earlier
revelations by Nyasa Times
that Mutharika was preparing
to arrest the Vice President
after her statement which she
called on the Malawi Government to allow people
to exercise their right to
demonstrate freely and
without fear of intimidation.
When contacted for comment,
Banda – an enormous political
force -told Nyasa Times: "I do
not have much to say."
The country's Second Citizen
maintained that she hears the
voices of the people and relate
to the issues being raised.
Meanwhile, the President said
he would not allow
nationwide demonstrations
against economic problems in
Malawi on Wednesday,
warning the public not to be in the streets.
He said the country should
instead listen to his public
lecture at New State House in
which he will highlight,
among other issues, political
independence, national sovereignty and self reliance.
Mutharika directed that
protests should take place on
Thursday and they should be
partial, not national wide.
Government spokesman
Vuwa Kaunda confirmed that
the Wednesday
demonstration has been
rendered "illegal".
"We do not therefore expect
any individual to participate in
any such demonstration on
July 20," he said.
"Government accordingly
strongly warns those
organising and intending to
participate in the
demonstrations to refrain
from doing so and they should listen to the President's
lecture," Vuwa added.
Organisers have however said
they will go ahead with the
demonstrations which have
been widely backed by
stakeholders, opposition
parties, labour union, churches and NGOs.
"We cannot accept a
declaration of a police state,"
said one citizen in Lilongwe.
Fuelling the anger among
Malawians is the shortages of
hospital drugs, fuel and forex
as well as governance issues.
Observers say the ban on
demonstrations indicates that
Mutharika is fearful he will
face unrest which could force
him out of power.—
(@ Nyasa Times)
Subscribe to our Youtube Channel: