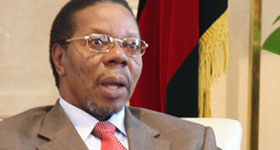 LILONGWE (AFP) –Malawi's President Bingu wa Mutharika brushed off accusations that his presidency is turning autocratic, in an interview with AFP days after Britain suspended aid over complaints of poor governance.
"I'm a very open person. Some people have dubbed me dictator. They don't know what a dictator is," Wa Mutharika said.
"But there is also discipline, because no nation on this earth can run without discipline," he said. "But dictatorship is never in my bloodstream. I'm a democrat right through."
Civil society groups in Malawi have sounded the alarm over policies they say are rolling back hard-fought democratic gains made since the country's first democratic polls in 1994 removed dictator Kamuzu Banda from power.
In January, Wa Mutharika signed a law allowing the information minister to ban publications deemed "contrary to the public interest", and in May local government elections already delayed for six years were again postponed.
His government has also imposed a requirement for activists seeking to hold protests to make a deposit of about $15,000 with police, intended as a safeguard against rioting and property damage.
The concerns of civil society were echoed in a leaked British diplomatic cable that accused Wa Mutharika of "becoming ever more autocratic and intolerant of criticism".
That sparked off a diplomatic spat that saw both countries withdraw their ambassadors, while London last week suspended around £19 million ($30.7 million, 21.7 million euros) of budgetary aid meant for anti-poverty programmes in one of the world's poorest countries.
Britain said the aid suspension was "to address UK concerns over economic management and governance", but Wa Mutharika insisted Malawi was not being singled out and would not apologise.
"It's certainly not a possibility. What do we apologise for? Here is an envoy who insulted our country," Wa Mutharika said. "As a matter of fact, we are already having dialogue to resume our normal relationship."
"Malawi never broke its relations with Britain. It's just that somehow the representation of Britain here in Malawi didn't act in accordance with diplomatic practices and we said remove him and bring another one, that's all we asked," said Wa Mutharika.
Wa Mutharika said the British aid cut would not affect the country's "zero-deficit budget". "We have set our budget this year of 303 billion kwacha ($2 billion, 1.4 billion euros) and we are going to raise 303 billion kwacha from our resources, so there is no funding gap whatsoever."
After winning his first term in 2004 elections, Wa Mutharika won plaudits for curbing chronic hunger in Malawi with an expensive fertiliser subsidy programme that costs $180 million a year and is funded through local resources.
Now the country's budget is strained, and the International Monetary Fund says its loan programme in Malawi has stalled. The resulting foreign exchange shortage has caused severe shortages of petrol and other imported goods, stoking public discontent.
Activists have called for marches across the country on Wednesday, in protest at Mutharika's policies. In response,  Wa Mutharika has announced a speech for Wednesday, when he says he will discuss the activists' concerns.
"Under the constitution, they will be allowed" to protest, he said. "I find this absurd because it's a waste of resources and time," he said. "Their concerns are invalid." "I'm not worried about criticism. In fact, Malawi is a success story."
Subscribe to our Youtube Channel: