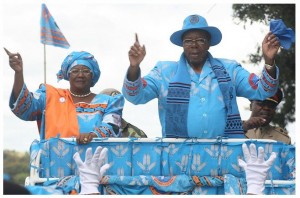 In a rare show of unity, Malawi's opposition parties and a coalition of civil society groups have united to organize protests on July 20, targeting a range of issues including repressive media laws recently passed by parliament, fuel shortages and bad economic governance.
The media law, endorsed by President Bingu wa Mutharika and the Malawi government concerns the amendment of Section 46 of the Penal Code, which will allow the information minister to ban publications deemed contrary to public interest.
Civil society groups, among them the influential Human Rights Consultative Committee (HRCC) have closed ranks with opposition groups including the country's oldest party, the Malawi Congress Party led by opposition Member of Parliament, John Tembo, to call for nation-wide demonstrations. There is, however, a palpable fear that the demonstrations may turn ugly with the government resorting to armed suppression.
Over the past two weeks the organizers of the protests have tried to get the green light from authorities to hold their demonstrations to no avail, while a group calling itself Friends of President Mutharika, has appeared on public television to announce their intention of fighting any demonstrators in the streets if they go ahead with their plans.
The protests come at a time when President Mbingu wa Mutharika's government is increasingly perceived as intolerant to dissenting voices.
Concerns over governance in Malawi prompted economic partners, who contribute about 40 percent of Malawi's budget, to either cut or reduce aid to the country. Britain, Malawi's main bilateral aid contributor, announced last Thursday that it would cease its contribute to Malawi's budget. This followed an announcement in March by Malawi's Finance Minister, Ken Kandodo, that donors were withholding more than US$400 million in aid in protest over government's repressive media laws and bad governance. Around the same time, a grouping of donors under the Common Approach to Budgetary Support (CABS) had warned Malawi's over the same issue of repressive laws.
Wa Mutharika, who received praise in during his first term in office for transforming the country's agricultural sector and bringing about "a unique green revolution", now finds himself facing widespread dissatisfaction locally and bilaterally. The country's petrol stations are now characterised by long queues, and civil servants have gone for months without salaries and economic experts now warn that Malawi may be exhibiting the signs of bankruptcy. Unfortunately, the government has not come out to give any official communication or position on the turn of events.
As recently as two years ago, Malawi was touted as the world's second fastest growing economy but recent International Monetary Fund (IMF) reports show that the country had dropped to position 17 on the Global Economic Growth chart. Poverty in Malawi remains widespread, in spite of the impressive economic gains made since 2004. With protestors saying these demonstrations are the first phase towards the grand mass demonstrations set for 17 August 2011, Malawi's situation could attract significant attention given the effects of recent protests that have taken place in North Africa, as well as the repressive responses to protests from states such as Swaziland.
Compiled by Timothy Walker of the African Conflict Prevention Program of the ISS.
Subscribe to our Youtube Channel: