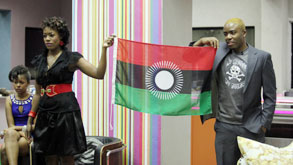 By Green Muheya, Nyasa Times
Malawi's representatives to this year's Big Brother Africa reality show, Lomwe has received a total of K707, 000 while Felicia pocketed K467, 000 cash pooled together by patrons and business companies at a cocktail party in Blantyre organised by Ministry of Tourism, Wildlife and Culture.
Lomwe (Tendai Namate) reached the finals, while fellow participant Felicia Ngoma who was ho was evicted after staying in the house for 70 days. The ultimate prize of $200,000 was won by Zimbabwean Wendall Parson, 23, along with Nigerian model Karen Igho.
"We are proud with Lomwe for representing us well in the house and we therefore organised a small token of appreciation of K100, 000," said Tourism Minister Dr Ken Lipenga.
Malawi contestants in Big Brother: Receive token of appreciation
"We are sad that he didn't win," said Lipenga, adding "but we are proud that he carried himself with such dignity even when he realised that the prize had eluded him. "
Lipenga said of Lomwe: "He spoke very well and marketed our country especially about Malawi's tourist attractions and the cultural diversity of our nation."
Also contributing were the National Lotteries Board which pledged another K100, 000 for Lomwe and K50, 000 for Felicia.
Mike Mlombwa's Countrywide Car Hire gave Lomwe K100, 000 and K50, 000 to Felicia.
Varibo dished out K100,000 to Felicia while Lomwe got K150, 000.
Malawi Gaming Board had K30, 000 for Felicia and K70, 000 for Lomwe as Chez Ntemba pledged K100, 000 to Lomwe.
South African Airways handed out two tickets for the two to fly to any African country of their choice. While flamboyant MBC's Director General Bright Malopa pledged a goat for each.
Lomwe, the 28-year-old DJ at private FM 101 radio, made headlines for flirting with different girls, mostly Ethiopia's Hanni, Zambia's Kim and Nigeria's Vina, said he was grateful for the money.
"I am very grateful. I am proud to be Malawian," he said.
This year's reality show, dubbed Big Brother Amplified, drew 26 housemates—16 female, 10 males—from 14 countries across Africa.
Big Brother, which sees contestants put into a house together and filmed around the clock, burst onto the scene more than a decade ago on Dutch television and has since been filmed and broadcast in more than 60 countries.
Subscribe to our Youtube Channel: