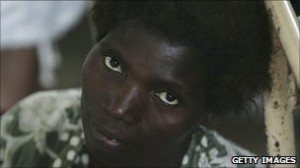 Choices, Inc. proudly announces the release of The Female Face of Aids: Crisis in Malawi, a new documentary which explores the country's appalling disregard for the rights of their infected female population.
Over 58 percent of Malawi's population infected with HIV/ AIDS are women, and despite the country's commitment under international law to protect their rights, many violations continue to accrue. Eight students and four faculty members from the Leitner Center for International Law and Justice at Fordham Law School traveled to Malawi in 2007 in order to document stigma and discrimination against the women of Malawi who are HIV positive.
In The Female Face of Aids: Crisis in Malawi, we follow the student's efforts during the final weeks of a year-long study as the team interviews a broad spectrum of people from the country to better understand how these conditions persist. By confronting such issues as economic dependency, physical and sexual abuse, commercial sex work and traditional male dominance, the students seek to find practical solutions for government officials, health workers and regular citizens to improve their lives and insure the nation's future.
Edward Boyce, co-director, commented, "Making 'The Female Face of Aids' was an eye-opening lesson in humility for both Doug Karr and I. It was an honor to document the strength of the Malawian women. They very often have the most meager worldly possessions, have been left alone to raise multiple children while infected with HIV and are experiencing stigma and rejection from their communities. It's not possible to fully understand how poor Malawi is without visiting it first hand. Financial independence for women is inconceivable. Their ability to soldier on with a positive attitude while still advocating for change deserves the world's attention and support. For us, filming the Leitner Center's work in Malawi was an excellent case-study in how good intentions from affluent, Western countries can genuinely begin to bridge the massive gap in understanding between our cultures. To travel with The Leitner Center through this film was a genuine and meaningful step away from ignorance and towards easing Africa's suffering."
"We hope the DVD will bring new awareness to the current situation in Malawi," said Gina Draklich, Sr. Vice President at Choices. "We continually strive to release films that expand our knowledge and improve our understanding of our world."
The Female Face of AIDS: Crisis in Malawi will be released on November 18th, 2008 for $49.95. The DVD also includes a photo gallery and lesson plan/guidebook for educators. Order the DVD by calling 1-888-570-5400 or visiting www.choicesvideo.net
For further information on this title or to request a screener, please contact Stevin Espinoza at sespinoza@dslextreme.com or at (310) 839-1500.
About Choices:
Choices, Inc. is a specialty distributor of quality documentaries, educational programming, and feature films. The company believes that documentaries are highly effective teaching tools, and provides both lesson plans and guidebooks as a resource for educators. More information is available online at www.choicesvideo.net.
Author Information
Stevin Espinoza
Subscribe to our Youtube Channel: