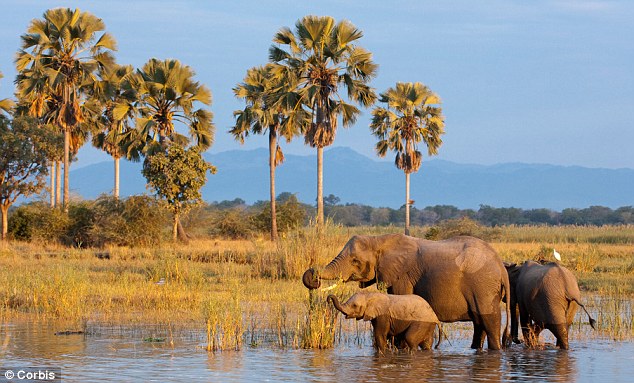 Malawi magic: The secret safari spot where it's just you and nature's greatest beasts
Turning out the lights to the sound of crocodiles slamming shut their jaws in the lagoon just a few yards from your bed is not necessarily conducive to a perfect night's sleep. But it does make you realise how upfront and personal you are with the wildlife.

You have to roll over and hope to drop off – though I couldn't help checking and rechecking that the door to our tented cabin was locked, not least because the guides had stressed the importance of doing so and you want to obey orders on occasions such as these.

We are on safari in Malawi – which sounds a little unusual because this small, deeply impoverished country has nothing like the reputation of its more illustrious neighbours when it comes to high-end gamespotting. But it soon will.

Just like Babar: There are so many elephants in the area that Mark counts 35 during just one safari trip
Specifically, we are in Mvuu Wilderness Lodge in the wonderfully scenic, untrammelled Liwonde National Park, the most prolific wildlife area in the country. The Shire River runs through it, so you can go on an early-morning walking safari on the flood planes, followed by a mid-morning river safari and then a late afternoon game drive in an open-top jeep.

The list of what you see goes on and on: dense pods of hippo, flotillas of crocodiles, legions of elephants, rhino, kudu, waterbuck, baboons and some 400 species of bird. And you see them all as if you have the place to yourself – which you pretty much do because there are a mere two guest lodges within the park.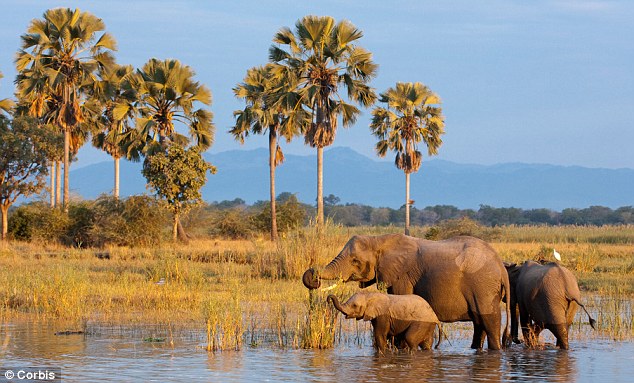 Ours has eight chalets, so there can only ever be 16 people staying at one time. All are well apart from each other, on the banks of the lagoon that feeds into the Shire. There is no fence. Elephants are free to chomp around. Monkeys come and go as they please.

After breakfast on our first day, I repair to a hammock on the balcony only to be startled by the gurgling, submarine sound of an emerging hippo. He waddles out of the water, sniffs and saunters along the bank to the spot where a huge croc slumps motionless in the mud.

This should be interesting. The hippo has all the space in the world, but he sits on the tail of the croc. The croc rises into the air, twisting his body aggressively. He is not happy, but doesn't dare take matters further because he knows the hippo could cut him in half if he wanted. Instead, he sulks into the water and glides downstream.

A river runs through it: Mvuu Wilderness Lodge is perfectly placed to enjoy river safaris
All this and we haven't even been on an official game drive yet. When we do, it's a river safari. Fish eagles watch us go and Ibis keep up a high-pitched commentary. We've hardly reached the opposite bank before there's a rustling in the reeds. Engine off, cameras primed.

Then, suddenly, the procession begins. It's just like the Babar books. They come in all sizes, swishing their tales, stomping through the water. I count 35 – at one sighting.

That night we sit around the camp fire, drinking Malawian gin and South African wine. There's a young couple from Switzerland, a family from Norfolk and some honeymooners who have fallen in love with the country and plan to spend the next day visiting the local school that Mvuu supports.
Frank, originally from East Germany, is the main man at Mvuu. His knowledge of the trees, vegetation and wildlife is extraordinary. What Liwonde lacks, he tells us, is lions and although the antelopes wouldn't agree, lions would give everything an edge.

They will be reintroduced to the park once the poaching issue has been resolved. Which means not for some time.

We ask Frank if he would lead an expedition to Dr David Livingstone's baobab tree, where the great explorer gave sermons in 1861 while searching for Lake Malawi. The honeymooners join us and we've plenty of drink on board for a sunset toast. Following The Shire northwards, we trundle along.

Sleep tight: Falling asleep to the sounds of the wilds on your doorstep is both fascinating and terrifying
The animals here don't come across many humans – as we are about to discover when Frank suddenly stops the vehicle and his spotter points into the bush. We fall silent. Then the biggest elephant I have ever seen appears no more than 30 yards away. She is flipping her ears and scrapes one of her feet on the ground. Her next move will be a mock charge.

But, instead, she crosses the road, a signal for her brood to do likewise. It's an astonishing sight against the backdrop of a setting sun, the silky water as flat as glass. We've a lot to toast once we reach the tree, not least that it's still there.
Frank thinks it's more than 1,000 years old. It's hollow in the middle and, thank goodness, there is no reference at all to it being anything other than a very old baobab. Livingstone camped here thinking he had discovered Lake Malawi.

In fact, he'd stumbled upon Lake Malombe, so his travels were far from over.

But to travel in Malawi is like nowhere else on earth. And if you are lucky enough to dally awhile at Mvuu, you will soon be sharing the country's gratitude to a man who turned the tide of history in this extraordinary corner of Africa.

Travel Facts
The Ultimate Travel Company can tailor-make a week in Malawi from £3,730pp, including three nights on safari at Mvuu Wilderness Lodge in Liwonde National Park, four nights on Likoma Island at Kaya Mawa, all meals and activities, flights with Kenya Airways, Nyassa Air Taxi connections within Malawi and private transfers,             020 7386 4646      , www.theultimatetravelcompany.co.uk.

For more information, contact www.malawitourism.com.
Read more: http://www.dailymail.co.uk/travel/article-2024220/Malawi-safaris-The-secret-park-itll-just-natures-greatest-beasts.html#ixzz1XRUsrhQS