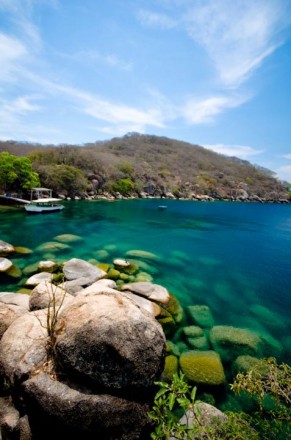 I could have easily spent a good few days at Gecko Lounge in the chilled out backpacking spot Cape Maclear, doing nothing other than reading my book on beach lounger, sleeping in shady hammocks, and drinking beer shandies. Alas, contrary to what many people think, being on a travel assignment isn't actually the same thing as being on holiday, and so Lisa and I packed up and jumped on kayaks, paddling ourselves to our next destination –Domwe Island.
Our only exercise for the past few days had been changing gears in the Mini, so it felt good to actually be doing something, though kayaking 10kms on fairly flat water was hardly triathlon-esque. We had a couple of wobbly moments, but arrived on the island's beach unsplashed, only to jump in the invitingly turquoise water as we beached.
Domwe Island is a great idea for backpackers on a budget wanting to splurge on something special (the cost of a night on the island, including the kayaking and a tent is $80). The island is entirely uninhabited, and its only man-made structures are the open air dining room, the two tented rooms and the wooden A-frames for campers. Activities include swimming, snorkelling, hiking, kayaking, lying on hammocks, reading on hammocks, and sleeping on hammocks. To say staying on Domwe is relaxing is like saying going bungee jumping is quite exciting.
After only a day on Domwe we felt as chilled as if we'd been on holiday for weeks. We'd had an early dinner accompanied by the grunts of bush pigs sniffing out cooking smells, followed by bed at 7 pm, where we read our books by the light of our paraffin lamps. Another romantic night in Malawi for Lisa and I…
The next morning we continued our extremely laidback life of reading, drinking tea and swimming, before hopping on the Kayak Africa boat to our next island home: Mumbo (about 5 kms from Domwe). The other passengers on the boat – a couple from the UK – were on a romantic break, and asked if we were on our honeymoon. Being on honeymoon on Mumbo Island is a good idea (the romance of this gorgeous island was not lost on us, the only non-couple on it).
Mumbo looks like something out of a photoshopped luxury travel brochure. The main island is linked to a tiny one, on which are perched the rustic-chic tented rooms, by a wooden walkway. Both islands are surrounded by aquarium-blue water and smooth boulders, off which you can jump into the warm cichlid-teeming water. There's a beach on the main island decorated with hammocks, loungers and kayaks, as well as a dining room and lounge area and a small kitchen. That's it. Being an island person (this is the kind of person who loves islands and stays on them as often as possible) my island recommendations carry a lot of weight, and I can safely say that Mumbo Island is one my non-continental land mass areas in the world.
As with Domwe Island, activities on Mumbo require a lot of effort. They range from lying on the hammock on your balcony, kayaking around the island, snorkelling, swimming, lying on a beach lounger, or going for a hike. I divided my time on Mumbo between lying and doing something fairly active, like snorkelling (which was spectacular – the water around Mumbo was the clearest we saw on the lake).
The food on the island was fantastic. Meals are served buffet-style in the restaurant overlooking the beach and are accompanied by the highly recommended homemade 'Mumbo Island' sweet chilli sauce. At dinner, couples sat around tables lit by lamps, being romantic, while Lisa and I gave ourselves eye damage trying to read our books by said lamps. We had another early night (we were beginning to catch up on a year of lost sleep on these islands). Sometime during the night I woke up, feeling overwhelmed by the heat in our tent. The only solution was to unzip the 'front door' and go to sleep on the balcony in our super-sized hammock. Initially this seemed rather lovely until the fishermen out on the lake started chatting to each other. Because their boats looked kilometres apart, chatting was actually shouting, and, as romantic as the fishing boats with their hurricane lanterns looked (the whole 'Lake of Stars' thing becoming apparent at this point) from my vantage point on the hammock, the experience was not, so I clambered back into bed in the sweaty tent.
Our best morning of the trip went something like this. We woke just after dawn, when sunlight poured into our tent through the flaps we'd opened for a breeze in the night. A tray of tea, coffee and biscuits was placed on our balcony, and we lay in bed listening to fish eagles cry and watching the sun rise over the lake while sipping our hot brews.
After two days of total and complete relaxation on Domwe and Mumbo, we were ready to hit the Lake of Stars Festival.
Day nine
Domwe Island
Distance: 5 km of kayaking
Time: 1 hour
Accommodation: Domwe Island
Sustenance: Tomato pasta, fish, chips and salad
Soundtrack: Fish eagles, scurrying of skinks
Day 10
Mumbo Island
Distance: 5 km
Time: 45 minutes
Accommodation: Mumbo Island
Sustenance: Butternut pizza, pancakes, lots of rooibos, veggie lasagne, bread and butter pudding
Soundtrack: Fish eagles, scurrying of skinks
Accommodation
Trips to Domwe Island and Mumbo Island are booked through Kayak Africa.
Domwe Island
The lowdown: An uninhabited island a couple of kilometres away from Cape Maclear in Lake Malawi National Park, and is home to birds, monkeys, rainbow skinks and bush pigs. You arrive at Kayak Africa's reception in Cape Maclear, and your bags are loaded onto a boat while you get on a kayak and paddle yourself to the island. You can choose to self-cater (there is a kitchen on the island to use) or use a chef, who will prepare all your meals for you (though you still need to bring your own food). There are two safari tent rooms (with single beds) with balconies and hammocks, and two other A-frames for pitching your own tent on. Guests on the island share the eco-toilet and hot bucket showers are taken under a baobab. The open-air dining room is set on giant boulders overlooking the lake (it's probably one of most scenic places to eat lunch in Malawi).
Cost: R400 a night a person for a fully-furnished safari tent (park fees included), R150 a person for a tent site (if you bring your own tent, add R100 to rent a dome tent for the night). It costs R240  night to hire a chef (for one to four people). You need to bring your own food to the camp.
Favourite bits: The honesty bar, the baobab shower, kayaking ourselves to the island,
Contact: Kayak Africa, www.kayakafrica.co.za, letsgo@kayakafrica.co.za,             021-783-1955
Mumbo Island
The lowdown: The camp on Mumbo Island sleeps fourteen people in safari tent rooms (with ensuite shower room – all you have to do is ask for a bucket of hot water at the dining room when you want to shower), sharing eco-compost toilets. The camp owners really make an effort to be eco-friendly (read about its green credentials here), so you don't need to feel guilty about destroying this little piece of natural paradise. In addition to hiking, snorkelling and kayaking, you can also do SCUBA diving.
Cost: R1200 a person, including three meals a day, purified water, tea and coffee (alcoholic and bottled drinks are extra), all activities and equipment (except SCUBA).
Favourite bits: The utterly romantic beautiful setting, our hammock with its fantastic views over the lake, the delicious food, snorkelling
Contact: Kayak Africa, www.kayakafrica.co.za, letsgo@kayakafrica.co.za,             021-783-1955
Subscribe to our Youtube Channel: