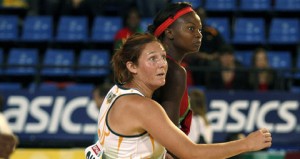 After defeating the Malawi Queens at the World Netball Championships in July, the Spar Proteas walked on court confident that they could defeat their African nemesis. However, it was the Malawians that were the better team in Perth, Australia on Sunday, as the Proteas made some fatal errors, often losing the ball to their opponents, which proved to be costly.
South Africa was the first to score at the start of the match, but lost their lead early on, and never regained it. Despite it being a tight first quarter, Malawi was quick to overtake and was leading the Proteas 6/2 by the eleven-minute mark. By the end of the first quarter Malawi lead South Africa by 15 goals to 8.
Spar Proteas coach Elize Kotze made a number of changes to the team for the second quarter. Replacing the wing defence position of Thuli Qegu with Vice-Captain Zanele Mdodana, and changing the defence and attack to allow for Anja Opperman and Zukelwa Cwaba to have some court time, didn't make the difference that the team so desperately needed.
"We knew that Malawi was running away with us," said Mdodana after the match. "It seemed surreal, we knew we needed to pick it up, but just couldn't get it right." The Queens led at half time by 32/16.
The Spar Proteas started to show a bit more vigour in the third quarter and managed to score 13 goals to Malawi's 15, but it still wasn't enough. The Malawian team was quicker, and more determined. "We need to take a serious look at player commitment," said Proteas coach Elize Kotze.
"A positive aspect of this match, was that it enabled team management to see who would, and who wouldn't make it as an international player. We are not going to carry players anymore."
Towards the end of the match, South Africa lost momentum and motivation, and ended with a loss of 37/61 to the Malawi Queens. "We had a very young team on court today," said Kotze post-match, "The fact that three of our core players from World Cup were missing really showed."
Leigh-Ann Zackey, who has recently retired from netball, Claudia Basson and Maryka Holtzhausen were not available, and the lack of maturity and expertise on court was evident.
"It will always be difficult for me to lose a game" said Kotze, "As there is always a lot at stake." "We now know that we need to make some serious changes if we are going to get back into the top four countries in the world."
The Proteas will be returning to South Africa on the morning of Wednesday 26 October. Their next international tournament will be the Fast Net, taking place in Liverpool from the 7th-9th November 2011.
Subscribe to our Youtube Channel: