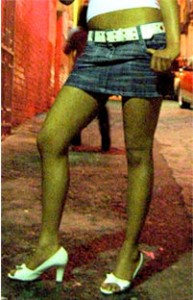 Blantyre – About 14 Malawians sex workers arrested by police and forced to undergo HIV tests two years ago have sued the government for "unfair action and violating their privacy", a high court official told AFP on Sunday.
The prostitutes, who all tested positive, filed for a judicial review of their case in 2009, but the court only gave consent to the sex workers to proceed with their action this year, the official from the administrative capital Lilongwe said.
The sex workers were charged for trading in sex while having a sexually transmitted disease. They were fined $7 and set free.
In the affivadits, the women say they have sued the government because after their arrest for prostitution, a police officer in charge and a district health officer for Mwanza in southern Malawi, "subjected us to a forced HIV test without our informed consent … this decision was illegal".
They said they wanted the decision to be "declared unlawful on the ground that the said decision is unreasonable and arbitrary and thus constitutes unfair administrative action".
"This was [a] violation of our constitutional rights to privacy and liberty, non-discrimination, to freedom from cruel, inhuman and degrading treatment and to dignity of the person," they added.
The sex workers said a magistrate court in Mwanza "publicly disclosed in a court room the results of our mandatory HIV tests, thereby violating our right to privacy and dignity".
Police said in court it was part of their investigation to have the women tested.
HIV infection rates
The case will come to a preliminary hearing on December 14 before the high court can fix a date for the main case to begin.
The women are reportedly being helped in the litigation by local and international non-governmental organisations.
Health officials say HIV infection rates among prostitutes in Malawi range between 70 to 80%.
Aids-ravaged Malawi has 383 000 people on free anti-retrovirals (ARVs), up from 5 000 when the programme started seven years ago, health authorities say.
About 14% of the country's 13 million citizens are infected with HIV, the virus that causes Aids, according to official figures.
Malawi launched the free anti-Aids drugs scheme in 2004 with 5 000 initial beneficiaries.
The poor southern African nation has 90 000 new annual infections, largely among young people and women, according to Unaids.
The World Bank gave Malawi a $30m grant two years ago to prevent HIV infections and speed up the roll-out of free drugs.
Subscribe to our Youtube Channel: