[box type="info"] Official trailer for Action drama movie from Zimbabwe's Joe Njagu and Rufaro Kaseke. Featuring former Big Brother Africa housemate, Munya Chidzonga along with Tsotsi star, Presley Chweneyagae. Also features top Zimbabwean business tycoon Phillip Chiyangwa and Miss Malawi Faith Chibale. The Gentleman. Two brothers. Two wars. One hell of a story. Coming your way in September 2011.[/box]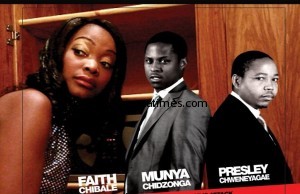 All is set for the first showing of 'The Gentleman', a Zimbabwean latest action film, which features Miss Malawi Faith Chibale. It is expected to be premiered this Saturday at Robin's Park in Blantyre.
'The Gentleman' also features Zimbabwe's former Big Brother Africa (BBA) housemate Munya Chidzonga, South Africa's leading actors, Presley Chweneyagae and Zimbabwe business tycoon Philip Chiyangwa.
Chibale, who plays Takunda (Munya)'s wife Sheila, told Nyasa Times that the Zimbabwe crew is expected in Malawi on Thursday.
"All preparations have been finalised [and] Munya is expected in the country on Thursday, alongside director [Rufaro Kaseke], producer [Joe Njagu], among others," she disclosed.
The Gentleman movie: All set for Malawi showing
The star-studded movie, shot on location in Zimbabwe and South Africa, tells the story of two twin brothers Takunda and Tawana, both played by Chidzonga. Tawana lives in Zimbabwe and works as a financial auditor. His wife falls seriously ill and he does not have the money to pay the medical bills.
Meanwhile, at work he discovers that one of his clients are involved in fraudulent dealings. He wants to expose them and is offered a bribe. He needs the money but is an upright man and goes into serious internal conflict; should he or shouldn't he? How far will he go for his dying wife?
Takunda spends his time on the streets of Johannesburg, carrying out deals with gangsters. He steals money from one of his gangster friends, played by Chweneyagae, and then runs off to Zimbabwe as they pursue him. They follow him to Harare and end up face to face with the wrong twin brother.
"People should come and see who the real gentleman is. The movie is special because it is the first international action/drama that's bringing in local actress and well known actors like Munya and Tsotsi [Chweneyagae]," Chibale said.
'The Gentleman' was first premiered in Harare on the 2nd of October and has been showing in cinemas before taking it to Malawi.
On the night of Saturday, apart from showing the movie, patrons will also be treated to music performed live by Zambia's Orga Family and Malawi's own Fikisa of Ademweche [Akamwile] fame as well as hip-hop star Young Kay. Charges are K2, 000 VIP and K1, 000 other seats.
After Malawi, the film is set to premiere in South Africa, before premiering in Malaysia and Britain.
Meanwhile, Newsday of Zimbabwe has reported that the movies has been nominated for two awards at the American Film Festival.
The movie entered the awards in the category of best foreign language film and was nominated for the best director and best cinematography awards.
Subscribe to our Youtube Channel: