This past week we had the official GRS 2011 End of the Year Party.  We'd been semi-planning it for months, but of course 98% of the preparation work was done in the few days/hours before the party. We brought in the Lilongwe-famous Mrs. Encatewere (still not sure if I'm spelling that correctly) for catering of traditional Malawian meal of mpunga (rice), nyemba (beans), nsima (nsima), nkhuku (chicken), n'gombe (beef), ndi salad (and salad).  As hosts, we also provided some additional appetizers, mainly chips and dip for which Mel, Meagan, and Lizzy put together some awesome guacamole and salsa.  This was also an alcohol-free party (no I'm not just saying that because my mom and dad read this blog) so we had a bunch of cases of cola and flavored soft drinks (not naming brands for a reason).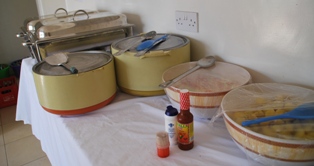 The Catering Service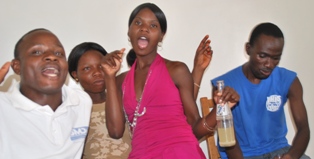 GRS Coaches from Left to Right: Steve C, Cathy, Linda M, William
We spent the day before the party coming up with fun activities to compliment the raging dance party that would also occur.  We came up with "Most Likely To…" where we had coaches vote on who they thought was most likely to do things like win a dance competition, make you laugh, or own blue movies (XXX).  We also had a soccer juggling competition, push-up competition, and my favorite a Kilo competition.  What is a Kilo you surely ask?  A Kilo is what we in Grassroot Soccer use to give praise to people.  The standard GRS Skillz Kilo starts with someone yelling can we give them a KIIII-LO! And then everyone claps 3 times in a row twice: CLAP!CLAP!CLAP!   CLAP!CLAP!CLAP! with finally everyone stretching out their arms and yelling WOOOOOOOOOOOOOOOOOO!  The great thing about Kilos are you can be very creative, and inventing new kilos is something we do all the time.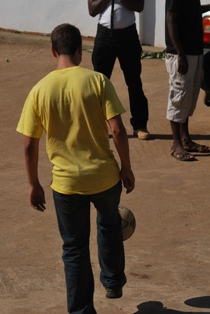 Trying to Bring the Skills in the Juggling Competition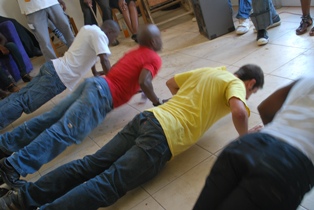 Push Up Competition Finals From L to R: Cossam, Godfrey, Me, Stanley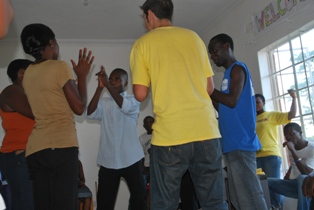 Winners of the Kilo Competition performing the new Freeze KIIII-LO!
The activities and parties were a great success.  We were able to get all the coaches transport to our house by around 1pm with the food ready to be served.  The power, thanks be to God, was on the entire time, and
Godfrey
 set up his awesome speakers and blasted a variety of hot dance beats for everyone to get down to.  The final part of the party was dedicated to Meagan, for whom it was her last Malawi GRS function, since she's moving back to the U.S.  We had a couple speeches and lots of hugs.

Meagan's Good Bye Hugs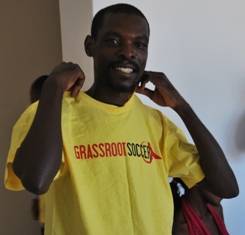 GRS Malawi Model Henry "Bulawayu" Ching'ombe modeling his new GRS Shirt
Following the party, and the cleanup, we realized that we still had a TON of nsima left.  This seemed the ideal time for me to take "The Nsima Challenge."  Lizzy, new roommate and manager, had bet me 2,000MK ($10USD), that I could not finish 5 patties of Nsima.  Now here I was and she raised it to 6.  After the first 2 patties I was already full, and the fact that I was dipping each piece in Salsa basically meant that I'd had the equivalent of 6 tomatoes by the time I got to my fourth patty and really started feeling it.  At one point, nearly delirious with stomach pain, I asked Lizzy what'd she'd give me if I committed Nsimacide and ate 7.  She said, "GRS does not pay me enough to give you more than 2,000 kwacha to eat 6 balls of nsima."  To which I replied, "And GRS does not pay me enough to NOT eat 6 balls of nsima for 2,000 kwacha."  I am an unpaid volunteer.  With an hour time limit to complete the feat, I finished with 3 minutes to spare and then spent a half hour trying not to vomit.
The day was not all good though.  One of our coaches, Shadreck, whom I play soccer with on Sundays with the team Kuche Kuche, had to leave the party early to go to the hospital to be with his brother who was suffering from TB.  That night I received word from Shadreck that his brother had passed away.
One thing I've learned in my time here is that circumstances change rapidly in Malawi and over the course of a day you're constantly switching back and forth from celebrating victories to ruing hardships and setbacks.  The only certainty is that there are no certainties, and the unpredictable will almost always happen.
Subscribe to our Youtube Channel: