Dar es Salaam — A day after Malawi crashed out of the Cecafa Tusker Challenge Cup, head coach Kinnah Phiri railed against the officiating and called upon the governing body to take steps.
The Flames squared off against the Tanzania Mainland team, Kilimanjaro Stars, and Phiri cut a forlorn figure at the end of the game after losing 1-0 on Tuesday. Phiri, who conceded the quarterfinal defeat, said generally the officiating was not up to the standard.
"Some referees were not up to the task and were clearly not ready to handle the matches of such magnitude. There were a lot of wrong decisions going on our way. "It really frustrates when wrong decisions go your way, I would like to advise Cecafa to consider carefully about quality referees next year," he said.
Phiri whose youthful side was invited together with Zimbabwe said they were ready to feature in the next Cecafa Tusker Challenge Cup edition. "Generally the championship was good, many teams were well prepared, so we faced some positive challenges and we are ready to field our troops next year," he said.
The former Malawi player said his team benefited a lot from the competition for their youthful players gained massive international exposure."I was disappointed by some referees, but to be honest, Malawi benefited a lot from this competition. Our youngsters now have the needed exposure," he said.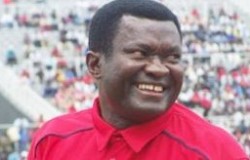 Subscribe to our Youtube Channel: