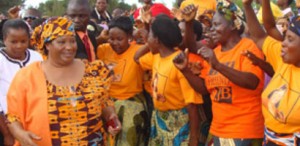 Malawi Vice president Mrs. Joyce Banda says there is no freedom to practice politics in the country.
The vice president was speaking in Lilongwe at the launch of the Malawi project.
She said Malawi cannot achieve any economic development where people continued to live in fear.
Mrs. Banda was speaking to about 200 women to whom she observed that Malawians ought not be afraid to express their feelings towards governance.
She said as second in command in the country, she feels duty bound to criticize what she feels are the evils of the current administration.
Mrs. Banda, who spoke more as a religious than a politician in her presentation, urged women not to sit back and watch as issues affecting them were going haywire.
Without mentioning names, the vice president wondered why some quarters want her to resign from her post of second in commander for the nation. These calls are known to have come from senior government officials who include Dr. Ntaba.
She noted previous vice presidents in her situation never resigned.
The meeting had some lighter moments mainly when Thyolo north parliamentarian Anita Kalinde arrived.
Women jeered and cheered, when Mrs. Kalinde grabbed the microphone, shared one massage "It's time for women to claim their political space."
The Malata Project was being launched under the Orange Achievers a club within People's Party.
Members of the club will be sourcing funds to be used in buying iron sheets for the needy.
The Vice President donated 200,000 kwacha for the project.  – Zodiak
(Visited 25 times, 1 visits today)