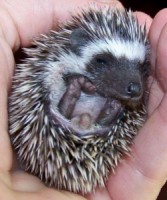 The British Hedgehog Preservation Society, based in rural Shropshire, answered a cry for help from Malawi in Africa this week!
Chief Executive, Fay Vass, said "We fairly regularly get requests for help with hedgehogs in Europe, and there was a lovely story we printed in our newsletter a few years back about some UK soldiers looking after hedgehogs in the wild in Iraq, but I think this is the first contact we have had from Africa!"
The hedgehogs found in the wild in Africa are different to the ones we see in our gardens here in the UK. They are smaller, eat different food and aestivate (they can go into a summer period of torpor) rather than hibernate. The Society offered advice and gave the rescuer contact details for wildlife centres in Africa that deal with hedgehogs. We continue to maintain contact by e-mail and will do so as necessary until they are ready for release.
Fay continued "The lady who rescued the baby hedgehog (hoglet) had found our website and contacted us for help, she was asked to check for more babies, as if one hoglet is in trouble; the chances are its litter mates are too. Sure enough another little one was found and this beautiful photograph of one of them was sent to us."
Hedgehogs in the UK have declined by a quarter in just 10 years, there are many simple ways you can help hedgehogs in your area, to find out how see the Society website at www.britishhedgehogs.org.uk or send an A5 SAE to The British Hedgehog Preservation Society, Hedgehog House, Dhustone, Ludlow, Shropshire, SY8 3PL.
Subscribe to our Youtube Channel: