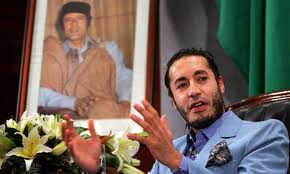 One of the sons of the late Libyan leader Muammar Gaddafi has threatened to lead an uprising against the country's transitional government.
Saadi Gaddafi made the comments in a television interview from Niger, where he fled after his father was toppled. He said he still had many followers in Libya, including within the ruling National Transitional Council (NTC). Col Gaddafi, who ruled Libya for four decades – was killed in October after months of civil war.
A BBC correspondent in Tripoli says the authorities are worried about possible action by Gaddafi loyalists, but the possibility of Saadi Gaddafi leading a big uprising seems remote.
In a phone interview with al-Arabiya television, Saadi Gaddafi said he wanted to return to Libya "at any minute".
"First of all, it is not going to be an uprising limited to some areas. It will cover all the regions of the Jamahiriya and this uprising does exist and I am following and witnessing this as it grows bigger by the day," he said, using his father's term for Libya.
He said he was in regular contact with the army, the militias, NTC officials, and other members of the Gaddafi family.
Saadi Gaddafi escaped across the border after NTC forces overran the Libyan capital, Tripoli, in August. In December, authorities in Mexico said they had stopped a plot by a criminal gang organisation to smuggle Saadi Gaddafi into the country.
Subscribe to our Youtube Channel: