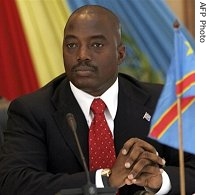 A senior adviser to the President of the Democratic Republic of Congo, Joseph Kabila, has been killed in a plane crash in the east of the country.
Augustin Katumba Mwanke died when the private jet came down near the town of Bukavu, a statement read out on national TV said. The pilot also died.
Finance Minister Matato Ponyo Mapo and a provincial governor were among other passengers who were seriously injured.
The crash happened when the plane overshot the runway, officials said.
"Unfortunately, I have to confirm the death of Katumba Mwanke and the pilot," government spokesman Lambert Mende told Reuters.
"It's a very big loss, he was considered a pillar of the presidential majority," he added.
The accident is the latest in a string of crashes in the DR Congo – a country which has one of the world's worst air safety records.
Last July, a passenger plane with 112 people on board went down at Kisangani airport, in the north, killing more than 50 people.
In April, a UN plane crashed as it attempted to land in heavy rain in Kinshasa, killing 32 of 33 people on board.
Subscribe to our Youtube Channel: