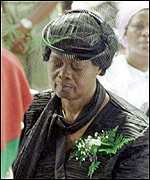 Mama Cecilia Tamanda Kadzamira, the official hostess of the country first president Dr Kamuzu Banda, has been voted lifetime achiever in the Woman of Distinction Awards (Woda).
According to Woda organisers, Kadzamira among her achievements which impacted on lives of Malawians, included the formation of Chitukuko Cha Amai M'malawi (CCAM).
In her remarks, Kadzamira thanked Malawians for their support in both good and bad times.
"I have gone through thick and thin but I have always had support from people of Malawi," she said.
Among several prizes, she has been awarded a ten day trip to Jerusalem where she is going to visit tourist attraction places every day and spend nights in very good hotels.
The awards saw several women being recognised for their contributions in various disciplines.
Other award winners are Chrissie Mtimuni (agriculture), Gertrude Kasopa (education) and Maureen Chirwa (health).
In sports, Mary Waya was recognised for her contributions to netball in the country while Gloria Banda emerged winner in the media category and Grace Chinga was the winner the arts category.
Other winners were Felistas Malewezi (science and technology), K. Mkandawire (public service) Thembi Thadzi (young woman leader), Catherine Chipembere (charity), Jane Namasasu (maternal health), Farina Ntenje (women champion), Annie Fischer (business). Standard Bank was voted best equal opportunity employer.
Subscribe to our Youtube Channel: