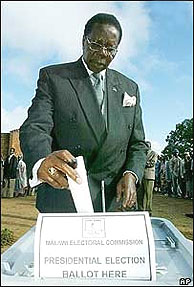 Findings of a political survey have indicated that Malawians want change in 2014, but should that not happen, the country will face worse things than experienced in Zimbabwe.
The survey was commissioned by Catholic Commission for Justice and Peace (CCJP) and National Democratic Institute (NDI).
The findings were disseminated on Wednesday in Lilongwe by Traci Cook of NDI and National Coordinator of CCJP Chris Chisoni.
The results say Malawians have a strong desire to vote in 2014, largely because they want change and to choose leaders who can bring development.
But the study has indicated that without the change people are looking for, most people are pessimistic about post-2014 Malawi.
"Without significant change, Malawi faces a dire future. Our nation will be the poorest of poor nations [in 2015].
"Every sector of the nation is going down, including agriculture. If things do not change, we will have a lot of problems.
"We may experience problems like the ones experienced in Zimbabwe. It will be a good country if Malawians vote wisely in 2014," read some of the highlights of the findings.
The study has also revealed that corruption has deepened its roots in rural areas.
"Vast majority say corruption is very much of a problem.
"Corruption has gone deep in our villages and nobody dares even to bring culprits to book.
[It is seen] in all facets of life: police are bribed to act favourably, chiefs are bribed to rule favourably and fertiliser subsidy programme is implemented corruptly," reads a summary of the findings.
The survey, was which was carried out in November last year, involved 427 people in 34 focus group discussions in 19 districts picked from all regions of the country.
This research study on citizen participation in the governance process was initiated to gain insights as to the opportunities available for citizen participation in local governance systems and structures, the limiting factors for citizen participation in them, their perceptions on delivery of social services and how they look at their roles in the democratisation process.
(Visited 24 times, 1 visits today)