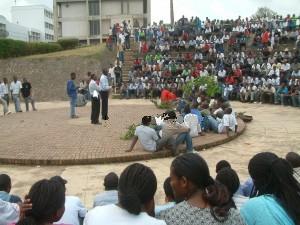 Students at the Polytechnic, a constituent college of the University of Malawi in Blantyre, on Monday abandoned classes and threatened to go onto the streets to demonstrate over unpaid students' loans and poor students welfare, among others.
As Polytechnic Students Union (PSU) leaders were locked in a meeting with the college's administration, some students gathered in front of the college as they waited for the outcome of the meeting.
PSU president Noel Mwenye said the meeting did not end well, but asked to be contacted later.
On Thursday, the students held a general meeting where they resolved to take administration to task over poor sanitation in the hostels, transport for ferrying students, parallel students' fees hike and how students' tuition and stationery allowance has been disbursed this year, among other issues.
'To the streets we go'
One student said: "We have agreed to go on the street if the outcome of the meeting is not positive."
College officials were not available for comment as they were reportedly in a meeting, but Principal Dr Grant Kululanga in his address to the students on Monday said the college has a set of rules and regulations which govern the college.
"This institution has got laws that guide each student. As a college, we do not have the mandate to change the students' fees because that is issued by the University Council," he said.
Kululanga said all students' concerns have to be channeled to the administration through the students union.
Southern Region Police spokesperson Nicholas Gondwa said the police was tipped that the students wanted to go on the street and they were on alert.
A couple of weeks ago students at Mzuzu University (Mzuni) also rioted over loans disbursement.
Subscribe to our Youtube Channel: