A leading political analyst has warned that Zimbabwe will be plunged into a 'political meltdown' if Robert Mugabe was to die in office, amid ongoing speculation about the ageing ZANU PF leader's health.
This speculation has reached fever pitch in recent days, with reports that Mugabe was 'dying' in a Singapore hospital which he has returned to on numerous occasions, allegedly seeking treatment for prostate cancer. It is now understood that he will be returning to Zimbabwe this week, with his party trying to quell the rumours that he is fatally ill.
ZANU PF has repeatedly denied that the 88 year old Mugabe is battling with his health. But this time around, the situation has appeared more serious, prompting many to ask, what happens if he were to die now?
Political analyst Professor John Makumbe said that, legally, the constitution provides for the Vice President of the country to take over for 90 days. He explained that during this time an 'electoral college', made up of the Senate and the House of Assembly, would elect a substantive president until fresh elections were held.
"The first issue here is that the constitution doesn't say which Vice President would take over, and in this case, there are two," Makumbe explained.
He added that the MDC-T would only have a voice as part of the 'electoral college' in Parliament and that otherwise the decision was wholly down to ZANU PF.
"ZANU PF has largely stuck to its hierarchy and if they continued down this road when Mugabe dies, then Joice Mujuru would be the next to take over. But we know that the politics in ZANU PF is heated, and there is infighting with Emmerson Mnangagwa," Makumbe said.
He added: "This is something that could cause a meltdown in the political realm and it is something that will affect all of us. I think it is something we need to be very wary of."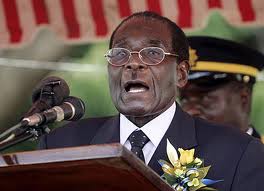 Subscribe to our Youtube Channel: