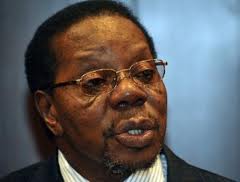 One aged African president is gone. Malawian President, Dr Bingu wa Mutharika, 78, died haplessly, helplessly and hopelessly, on April 5, 2012 at his official residence in the capital Lilongwe.
The man who was born Brightson Webster Ryson Thom on February 24, 1934, unlike other authoritarian leaders who die in dignity surrounded by the best doctors available, didn't get that luxury. He fell at the State House, and was rushed to the hospital already clinically dead.
According to the press reports from Lilongwe, his security detail had to cover his face upon arrival at the poorly maintained hospital to shield him from unnecessary embarrassment. For fear of destabilizing the government, his lieutenants whisked his body to a South African military hospital, keeping false hope that he was still alive.
Western media, upon hearing the whole story reported that the Lilongwe hospital didn't have properly refrigerated morgue facilities to preserve Mutharika's body due to the ongoing energy crisis. None other than Dr Mutharika himself was to blame for this.
But what surprised the world was the way his own people received the news of his death. Unlike in the West where the death of an enemy is received with jubilation and phrases such as: "This is a great opportunity"; in Africa people calm down a little bit when their tormentor passes away. Not this time among Malawians, for they were open about it!
But who was Mutharika? The departed president obtained his Bachelor's degree and Master's, both in economics, from the Delhi School of Economics, in India in the 1960s. He would later obtain a PhD in development economics from Pacific Western University in California in the US.
Mutharika spent a good deal of his life serving the international community as a loan officer at the World Bank, director of trade and development finance at the United Nations Economic Commission for Africa (ECA) in Addis Ababa, and at one time as secretary general of the Common Market for Eastern and Southern Africa (COMESA), in Lusaka.
His political ambitions made him cofounder of the United Democratic Front (UDF) in 1992 with Bakili Muluzi, the man who ousted despot Kamuzu Banda, in the first multiparty election in 1994.
Mutharika then served under Muluzi as deputy governor of the central bank of Malawi before becoming minister of economic planning and development in 2002.
Thereafter, Muluzi handpicked Mutharika to succeed him in the 2004 presidential election. Muluzi who remained the leader of the UDF, would later regret his decision. Mutharika quit UDF in 2005 and formed the Democratic Progressive Party (DPP) taking 70 lawmakers with him. Luckily, the Malawian constitution is very flexible.
Mutharika then embarked on arresting Muluzi endlessly, charging him with theft following countless scandals in his administration, and then when Muluzi attempted to run again in 2009, he was met with more arrests and bans from the electoral commission, and later the constitutional court. Muluzi exited politics in 2009 completely exhausted.
Mutharika won the second term in 2009 and started preparing his brother, Professor Peter Mutharika, to succeed him. That is when Vice President Joyce Banda got into trouble for opposing the plan. She was expelled from the ruling DPP but the Parliament never concluded her impeachment, so she remained a powerless VP.
The good work of Mutharika in making Malawi a food basket, presiding over economic reforms, installing fiscal discipline and strict anti-corruption measures, started to look bad. His Growth and Development Strategy for 2006-11 focusing on a number of things, also suffered a great deal when he quarreled with Malawi's major donors, the UK and the US.
This year Mutharika started by telling off the World Bank and the IMF, that they can't teach him economics, and denied them any access. By that time, cash-strapped Malawi was deep in an energy crisis, and tumbling down the hill. Hungry Malawians became very angry and Mutharika decided to use his police to fight them.
So, Mutharika, an economist-in-chief, then became just like any other useless leader, that is, irrational, autocratic, surrounding himself with "Yes Sir" people, making his wife and brother ministers, arresting people, and everything you can imagine of an irresponsible president.
It was at this time that the self-proclaimed Nigerian prophet Temitope Balogun Joshua predicted that one old African leader would die of sickness. That was well in February and everybody ignored him. In March he repeated again, and suddenly, on April 5 Mutharika died.
What rich material for a documentary film for the African movie industry!
After a brief constitutional crisis in which Mutharika's henchmen were trying to prevent the Vice President from ascending to power, her right according to the constitution, Madam Banda, the wife of the former Chief Justice, became the second African female president.
Speaking of a legacy, Mutharika, has left nothing valuable.
Subscribe to our Youtube Channel: