New President, new openings. It looks like indeed aid taps are opening up for Malawi now that a new President is in power following the death of President Bingu wa Mutharika.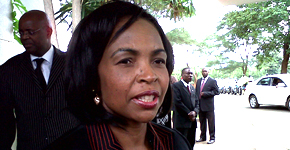 While all eyes are on Britain and US, Malawi's neighbors have started the ball rolling by pledging to help Malawi end some of its economic challenges.
After Zambia provided Malawi with five million litres of fuel, South Africa has announced that is more than willing to help Malawi end her fuel problems.
South Africa's International Relations Minister Maite Mashabane, who led a delegation from President Jacob Zuma that met President Joyce Banda in Lilongwe, told zodiak online Friday that the rainbow nation pledged to President Banda to help alleviate Malawi's challenges "especially on the fuel side".
Mashabane said President Banda will announce the pledge to the Malawi nation at her convenient time.
Subscribe to our Youtube Channel: