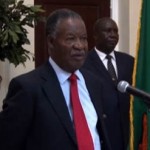 The PF government has told Malawi that it will charge them for the five million litres of fuel president Sata donated for the funeral of Bingu Mutharika
According to Nyasatime and Maravi Post, Zambia's energy minister Christopher Yalume was in Malawi yesterday (Friday) to make the symbolic donation.
After making the symbolic donation, Yalume said the two governments will discuss the payment after Mutharika's funeral.
He said some of the fuel is on its way and requires 100 tankers to transport one million litres.
Five million litres is valued at USD $5 million.
Meanwhile, the more organised government of South Africa has told Malawi that it would offer them a business deal to end the fuel crisis in that country.
South Africa's International relations minister Maite Mashabane who was in Malawi at the same time with Yalume discussed with President Joyce Banda the nature of the business deal.
She said president Banda will announce the details.
Subscribe to our Youtube Channel: