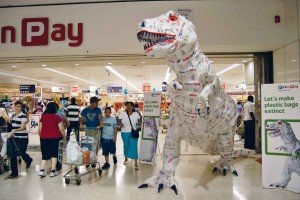 South Africa's No.2 food retailer, Pick n Pay, will enter Malawi and the Democratic Republic of Congo (DRC) in the next 12 months, its chairman said, as the merchant stretches its presence on the continent.
"We are busy looking at the DRC and Malawi," Gareth Ackerman told a Reuters Africa Investment Summit. "We've got three more stores planned over the next year into those markets."
Ackerman said Pick n Pay, which has about 94 stores in African countries outside South Africa, would be expanding more in markets where it already has operations, which include Zambia, Mauritius and Zimbabwe.
"For us to double the number of stores in the rest of Africa in the next five to 10 years is absolutely conceivable. We just don't have plans for it yet," he told the Summit.
Home to a billion people, dozens of fast-growing economies and an emerging middle class, Africa is increasingly seen as the next bright growth spot.
While the resource-rich continent has traditionally drawn mostly mining companies, it is now luring investors interested in rapid growth in consumer spending and higher disposable incomes.
Ackerman said Pick n Pay had no immediate plans to set up in Nigeria because the continent's most populous country was too far from its existing businesses and distribution networks in southern Africa.
Pick n Pay is one retailer seen as likely to attract buyout offers from global grocers such as Tesco, Carrefour and Metro looking to challenge Wal-Mart Stores Inc in its quest to corner the African consumer.
Ackerman said global retailers had been coming in to South Africa to look at what pushed the world's biggest retailer into spending $2.4 billion for control of South Africa's Massmart, but none had approached Pick n Pay.
"With Wal-Mart having entered South Africa, most of the big global retailers have been out here to have a look and see why did they come," he said.
South African rival Shoprite is also seen as a likely takeover target for multi-national supermarket groups.
"They are sniffing around. They are looking and seeing. Whether or not they talking to anybody, I can't comment," Ackerman said.
Subscribe to our Youtube Channel: