Malawi has declared Monday, April 23 a national holiday for the burial of its late president Bingu wa Mutharika, with seven African heads of state expected to attend.
New President Joyce Banda's office declared April 23 a public holiday "to give the former president a dignified and honourable state funeral and many Malawians an opportunity to attend the funeral ceremony".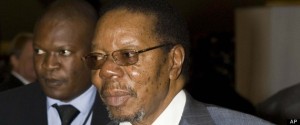 Presidents from Benin, Mozambique, Namibia, Kenya, Tanzania, South Africa and Zimbabwe are expected.
"I can confirm that seven presidents from Africa will attend the burial ceremony," said local government minister Henry Mussa, who heads the funeral preparations.
Thousands of people this week queued to pay their last respects as his body lay in state and was moved to three cities across the country.
Mutharika died of a heart attack on April 5 and his body was flown to South Africa for embalming.
The 78-year-old was a former African Union chairman.
His death was met with mixed reactions, as many people in the impoverished southern African state accuse him of poor economic policies and suppression of basic freedoms.
Subscribe to our Youtube Channel: