Long sugar queues are expected to continue in retail shops across the country as the country's sole producer of the product, Illovo Sugar Malawi, expects the situation to normalise only by the end of the month.
The company has said consumers should expect the situation to normalise by the end April.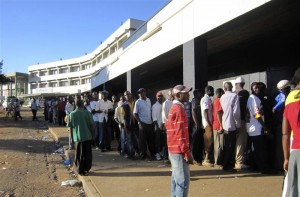 Illovo publicist Ireen Phalula said milling for its two companies started but it will take time to satisfy the market.
She said the company's Nchalo Factory started milling sugar on April 5 while production at Dwangwa started on April 13.
"Nchalo and Dwangwa are both increasing their production. It will take some time to refill the market with sugar. Sugar will become increasingly available and we expect the situation will normalise by the end of April," said Phalula.
In a statement made available to Business Times, Illovo said logistical arrangements are currently being made for supply of the commodity.
The company further advises the general public to desist from panic buying.
"Illovo Sugar Malawi therefore wishes to advise the general public there is no need to panic when buying sugar because supplies of sugar will be consistent now that the factories are running. It is also our expectation that the market prices will regularise as sugar supplies normalise with time," reads the statement in part.
The company through the Ministry of Trade and Industry imported 600 tonnes of sugar from Zambia to cover the gap in the country.
Minister of Trade and Industry John Bande said the 600 tonnes has already arrived in the country and filling the gap though not adequate.
He said consumers should expect the situation to normalise soon as Illovo is working hard to address the situation.
"Dwangwa and Nchalo milling are in full swing now and the market will have the commodity soon. As a ministry we will continue to monitor the market so that consumers are not ripped off," said Bande.
Currently major shop owners are rationing the commodity with others selling two packets per person while others allowing purchasing of 5 packets per person.
The sugar scarcity has seen traders increasing the prices of the commodity from K215 per kilogram packet to K450.
Subscribe to our Youtube Channel: