The year-on-year headline inflation for the country continued to rise for the month of March 2012.
For the third month running, the inflation is still at double digit at 11.4 percent in March, up from 10.6 percent in February.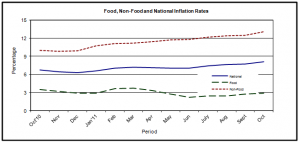 According to the National Statistical Office (NSO), which released the figures on Friday, urban and rural inflation rates are 14.9 percent and 9.5 percent, respectively.
"Although food costs have started decelerating, the upward trend in headline inflation continues due to unabated rise in non-food costs," the statement reads in part.
Inflation for December 2011 was at 9.8 percent and it hit double digits in January 2012 at 10.3 percent.
During his presentation of the 2011/2012 midyear budget review in January, Finance Minister Ken Lipenga warned that there would be a rise in inflation due to increased transportation costs exacerbated by fuel and forex shortages.
He projected inflation to be 9.0 percent in 2012.
"With mounting pressure on non-food components especially transport, it is expected that as we approach the lean season of 2012, annual average inflation will edge up from the initial projection of 7.0 percent to 7.6 percent while end of period inflation for 2012 is projected to be 9.0 percent which far exceed the initial projection of 6.3 percent," said Lipenga, reading the review in part.
Subscribe to our Youtube Channel: