Some Southern African leaders are in Malawi for the burial of late president Bingu Wa Mutharika scheduled for today in his home village.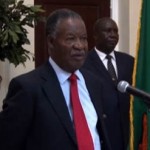 Zambia's President Michael Sata has stayed away from the burial of his political foe and instead delegated his deputy Guy Scott. Wa Mutharika in 2007 arrested Mr. Sata who is at the time an opposition leader and deported from that country through Mwami boarder post.
The relationship staled that President Sata refused to travel to Malawi for the COMESA Summit but a few months later the two met in South Africa and harmonized their difference.
According to local media, the presidents of Tanzania, Jayakya Kikwete, Namibia's Hipikepunye Puhamba, late Wa Mutharika's close ally Zimbabwe's Robert Mugabe and Kenya's Mwai Kibaki arrived in Blantyre, Malawi's commercial city.
The Heads of State were who landed at Chileka International Airport were welcomed by Malawi's Vice president Khumbo Kachali.
The presidents expressed deep sorrow at the passing on of their colleague and said they were together mourning with the people of Malawi
"Our relation was so solid that his loss is our loss," President Mugabe said. "We are together, we mourn together. We are very sorry."
The president of Mozambique Armando Guebuza and Deputy president of South Africa are expected to join the other African leaders today (Monday).
The foreign dignitaries are expected to pay their respect this morning before burial at spendthrift mausoleum 500 metres from his mansion where he himself built.
Malawi's former leader Bingu wa Mutharika is to buried in a mausoleum beside his wife
Former President Bingu wa Mutharika, who died on 5 April after a cardiac arrest, is to be buried at his sprawling farm in southern Malawi.
Mr Mutharika will be laid to rest next to his first wife Ethel in a huge white marble mausoleum called the Mpumulo Wa Bata by local media.
At least seven African heads of state, including his close ally President Robert Mugabe of Zimbabwe, are expected to attend the state funeral.
Mr Mutharika led Malawi from 2004. At least 3,000 people have come for Mr Mutharika's funeral – including politicians and villagers from the surrounding tea-growing district of Thyolo.
Thousands more have paid their respects over the past week, when Mr Mutharika's body has lain in state in the capital, Lilongwe, the northern city of Mzuzu and the commercial capital, Blantyre.
Mr Mutharika was born Ryson Webster Thom in 1934.
The schoolmaster's son changed it to Bingu Mutharika during the 1960s as pan-Africanism swept across the continent.
He added the prefix "wa" to disguise his identity from Malawi's first ruler Hastings Kamazu Banda's state security, who were hunting down his opponents around the world.
A former economist, Mr Mutharika was credited for revitalising a moribund agricultural sector during his first term.
That recovery was short-lived, however, and both his terms in office were mired in controversy.
He was criticised for mismanaging the economy and stifling political and press freedoms.
Subscribe to our Youtube Channel: