Zanu PF has come out ripping at predictions by Nigerian prophet Temitope Balogun Joshua (TB Joshua) that death of an ageing African leader is imminent, insisting that the famed prophet is not referring to President Robert Mugabe. The powerful TB Joshua has not named the leader he predicts could be nearing death.
President Robert Mugabe's Zanu PF is panicking over Prime Minister Morgan Tsvangirai's invitation of popular Nigerian prophet Temitope Balogun Joshua (TB Joshua) to attend prayer meetings in the country this year.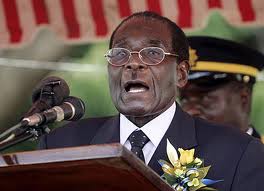 Mugabe's health has been subject of frenzied reporting by the media as a result of his frequent trips to the Far East where at one time his officials admitted he was receiving cataract attention. But he is not the only leader or former leader who is not well.
Former South African President Nelson Mandela had surgery recently while Zambian leader Michael Sata is receiving treatment in India although officials say he is on a private visit. Malawi's Bingu wa Mutharika was also rumoured to be not well at some point. Minister of State in the President's office Didymus Mutasa dismissed the prophecy.
"He (TB Joshua) certainly doesn't mean our President because there are many African presidents who he can be referring to," Mutasa said.
"It is not ethical for him to pronounce such a thing because he has got no reason to. I do not think that the Almighty would have shown him that for him to publicly announce. It would have been right for him to keep quiet and when the president passes, then he would say I had seen him die."
"I do not think that he himself publicised this but his assistants," said Mutasa. Zanu PF spokesperson Rugare Gumbo declined to comment. "I do not comment on those issues. Those are things that are not practical. I comment on political and social issues," Gumbo said.
The octogenarian leader was said to be suffering from prostate cancer according to whistleblower website — WikiLeaks. Senior politicians and church leaders also slammed TB Joshua accusing the influential prophet of having an "unbiblical" conduct. Bishop Noah Pashapa of Life and Liberty Churches International blasted the prophecy.
"It is unbiblical," Pashapa said. "There is no biblical precedence to that prophecy. God's character is not given to inciting or causing confusion, despondency, apprehension or fear in individuals or nations.
"In the Bible, when a prophet is given a message regarding an individual's ill health, death or demise of a leader, whether it is a good leader or bad leader, the prophet is given specific instructions to approach the particular leader and speak directly in the presence of some witnesses."
"TB Joshua has caused despondency, fear and apprehension. The prophecy is so general and open to anyone's interpretation, it is not of God. He is very clever to make vague prophecies and has never been caught to be a false prophet.
"If he is given a prophecy from God it should be clear and it should be given directly to the leader. This guy is just a trouble causer who is causing despondency and fear."
The outrage followed the prophet's weekend prophecy at his Synagogue Church of All Nations (Scoan) headquarters last Sunday where he again announced that the end is nigh for doomed African leader.
Speaking on behalf of Prime Minister Morgan Tsvangirai's MDC, Douglas Mwonzora said his party did not wish death to anyone. "We are very sorry for the person who is going to die but we do not wish anyone to die as a party," Mwonzora said. "We are very sorry if someone is going to die."
Spokesperson of Welshman Ncube's MDC Nhlanhla Dube said: "As a party, we believe sincerely that the author of life is God Himself. We seek no way of knowing who's going to die, when; it is the preserve of God. It is not a matter of importance but only creates anxiety which does not serve any purpose in our lives."
Settlement Chikwinya, an MDC MP, however said the response generated by the prophecy reflected true sentiment of Zimbabweans.
Chikwinya said: "As Zimbabweans, it is generally against our culture to wish for death on any one of our own, however, the excitement generated by the prophecy of TB Joshua among Zimbabweans simply serves to demonstrate that the majority of the people of Zimbabwe want President Mugabe out of politics and pave way for a new order that can deliver real change."
The Daily News website and social networks like Facebook and Twitter were abuzz with responses to the TB Joshua prophecy.
Commenting on the Daily News website, a reader only identified as Zodwa wrote; "Uh!!! Inga zvakaoma (this is hard to believe). I once read that no one knows when the Lord will come to take his own. How come the prophet is told about other people's deaths? I hope when his turn comes, he will also tell the world."
Mweni Tafara wrote: "When the true prophet of heaven by the name of Isaiah was informed of the impending death of King Hezekiah, the true prophet did not chant in the streets but he went straight to Hezekiah and said thus says Musikavanhu/Umkhumkhulu/Umvelinqangi (the Creator), my lord, thy time is nigh.
"But look at the tithe merchant trying to gain more converts to milk tithes from, he is not approaching the requisite head of state, but is simply rabble-rousing. I thought the months he talked about are complete."
The anxiety, reflecting in secretive efforts to "blackmail" the immigration department to deny the Lagos-based evangelist a visa should he decide to come, was exposed through a spurious state media story yesterday claiming that TB Joshua's visit would be used for the MDC's electoral campaigns.
The Daily News was told yesterday that hardliners in Zanu PF, who are worried that the relationship between TB Joshua and Tsvangirai could give the MDC leader massive support, are already plotting to deny him entry into Zimbabwe.
It also comes as the popular preacher's stock has been rising in Zimbabwe and abroad after his February prediction that an old African leader would die within months, and 60 days later, Malawi's President Bingu wa Mutharika, 78, died of heart failure.
A few days before wa Mutharika's death, TB Joshua announced that the death of an African leader was imminent.
Didymus Mutasa, the Zanu PF secretary for administration, yesterday however stressed that they had no problems with TB Joshua's anticipated arrival in the country even though he was coming on Tsvangirai's invitation.
"Ngaauye hake (he can come) if he is Tsvangirai's guest. If he is Tsvangirai's guest he is programmed by Tsvangirai to do what he says. Ko Zanu PF inopindawo papi? (Where does Zanu PF fit in?)," he said.
TB Joshua is expected to be in the country on May 25 for the National Day of prayer.
While Zimbabweans — like their regional counterparts – were also "spellbound" by TB Joshua's prophecy and resultant speculation about the president's health, especially after his prolonged stay in Singapore, Mugabe's henchmen and notably serial political flip flopper Jonathan Moyo have launched a full-on attack to not only discredit TB Joshua, but have also fallen short of calling him "a western assassin".
"TB Joshua's involvement in this tragedy smacks more of a plot than a prophecy. One thing for sure is that there is no prophecy here but just a prediction if one is to give him a benefit of doubt. This leaves open the questions as to what happened because to neutral people there appears to be more to the saga than meets the eye," the Tsholotsho North legislator said.
"In some circles, there is even spirited speculation in well informed circles that TB Joshua had privileged intelligence information about a death plot against… Mutharika and the plotters used him as their microphone to divert attention… and let the death appear like it was an act of God when it was an intelligence operation," Moyo added.
An unofficial Zanu PF propagandist, but key decision-maker, Moyo went on to quote the Bible — 2 Timothy 3 verses 1-5 — about false prophets and in his bid to further discredit the "man of God", and said the precision in timing could have been a coincidence based on "someone with medical information and not from God".
"It's possible to medically induce a cardiac arrest no wonder why his death was first leaked by his doctors," the former government minister said.
A top MDC official who spoke on condition of anonymity said Zanu PF was misleading people into believing that TB Joshua told Tsvangirai he would never lead the country.
"Zanu PF is panicking because they know the truth about what was said and what is unfolding. They want to hide behind the man of God's name to promulgate their own agendas. You must not twist a man of God's words. What TB Joshua told Tsvangirai was in the positive; actually it was very, very positive," the MDC official said.
"TB Joshua did not say he (Tsvangirai) will not lead the country. Zanu PF is saying that because they know what was said. They know the truth of what God has in store for this country. That is why they are panicking. God works in his own way, for Zanu PF to be where it is, it was God's design," he added.
Subscribe to our Youtube Channel: