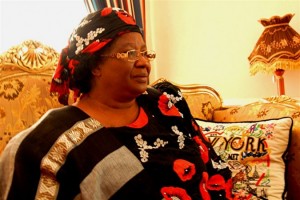 Human speaking, the loss of a life is naturally a cause for grief and anxiety. In politics, however, grief and anxiety does not always follow the loss of life. Here it is the good and the bad of the individual that decides; if the good outweighs the bad, grief and anxiety follow, and the direct opposite is consequently true.
This is why it is not surprising to note that almost all Malawians, from a human perspective, are grief-stricken on the sudden death of former president Bingu wa Mutharika. And that is why, politics-wise, it is not so surprising that Malawians' are expressing happiness on Mutharika's death because, politically seriously, his demise is an overdue breather.
Whilst Malawians humanly mourn and/or politically celebrate the death of president Bingu wa Mutharika, it would help if we spare some of our precious free time and follow how President Joyce Banda's 'clean sheet' mentality will guide her policies.
Expectedly, President Joyce Banda will reshuffle her cabinet to bring some of her party royalists, sycophants, and opportunists. It is most likely that Dr Ken Lipenga and two more late wa Mutharika ministers will be maintained, though it is highly expected that all the three will not maintain their ministries.
The other faces joining government business will be four first time 'toddler' ministers especially one in the Ministry of Youth, Sports and Culture, and five other faces who served either in the late Bingu wa Mutharika administration, most especially in his boom days, or former president Bakili Muluzi's administration.
But most importantly, President Joyce Banda is most poised to trim the cabinet to a lean 25-person or less. What would be important here, however, is the calibre of the people she would choose to serve in the most crucial ministries; Ministries of Finance, Education, Health, Justice, Foreign Affairs, and Agriculture.
The expectation is that president Banda will consult widely on her selection of cabinet. Additionally, ministers she will choose to head those keys ministries will be the ones who will be deemed royal to her but it is doubtful if she will accord them independence of thought and action.
On the international scene, President Joyce Banda is expected to go begging, like literally begging. She is expected to normalise all the sour diplomatic relations with Malawi's erstwhile donors. In fact, it is suspected that international relations will be among her four policy priorities in the first days of her reign.
Again, she will forge new or strengthen existing ties with international nations and organizations on the hope aid flows to Malawi so that Malawians wake up a Malawi of pretty goodies and less complains.
Her calls for international support will be immediately heeded and almost unquestionably taken on board given the current powerful voices of women empowerment.
She would, however, tread the international land carefully and resolutely by not nodding to any conditionalities in the name of aid, otherwise Malawians would see her as not strong enough for a president. For she would not like being called weak as that would obviously soil her clean sheet, she would be soft while at times be hard as situations would demand.
The improved international relations shall mean that donors will rethink on their financial support excusal resulting in release of money, thus reloading the ever-hungry forex reserves and improving export potential of both fuel and other essential commodities.
The cries about bad laws in parliament will be a thing of the past. President Joyce Banda is set to repeal or refuse to assent to bills in parliament that would likely attract public condemnation. The reasons for this is that she has enough experience of what it means to be at loggerheads with one's citizens, and because that would be against the dictates of her 'clean sheet' mentality.
Furthermore, it is the clean sheet mentality that will be the drive in her anti corruption drive. For this reason, Malawians should, perhaps for the first time ever, be ready to see arrests of cabinet ministers and other high profile individuals both in the late president Mutharika regime and her own.
That is how President Joyce Banda's clean sheet mentality will most probably guide her policy directions. But as we wait for the 100th day of her administration to make a detailed policy-to-policy analysis, let us congratulate her on being the first woman president in both Malawi and the entire Southern African region.
Source: http://chizimbahenry.blogspot.com/2012/05/president-joyce-bandas-clean-sheet.html
Subscribe to our Youtube Channel: