Vendors in the Main Market of Mzuzu have stopped buying tickets and warned that they will resume buying tickets when their demands are met.
Speaking in Mzuzu on behalf of seven section Chairpersons, Mr Elton Majaliwa said they have already discussed the matter with the Council's Chief Executive concerning the removal of council's watchmen from the market and that the vendors should employ their own.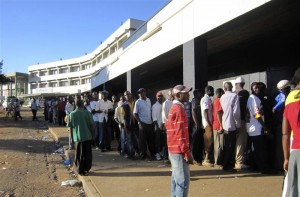 Mr Majaliwa however said the Chief Executive did not welcome the idea arguing that is only the city authorities that have mandate of providing security in the market.
He said despite going to Police nothing tangible came out although the Law enforcers promised to facilitate.
However, Mzuzu City Council Assistant Director of Finance Mr Gift Banda said they will apply appropriate measures in dealing with the situation because they can not bow down to whatever every one wants.
Subscribe to our Youtube Channel: