The 2012 Association of Teaching English in Malawi (ATEM) drama competition on Saturday, 12th May, concluded at Kamuzu Institute for Sports in Lilongwe amid rumours that some play directors bribed the judges to produce results in favour of their schools.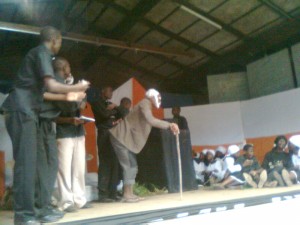 The ATEM national finals called for the participation of three representing schools from each of the three regions forming nine theater rivals. Luwinga, Katoto and Mzuzu government secondary schools from the north, while the central region was represented by Likuni Boys', Matindi Girls' and Nanthomba secondary schools. The southern region, defending the national championship, sent Pius XII, Chichiri and Stella Maris Girls' secondary schools.
During the competition, the audience complained of experiencing poor plays, but when Pius XII, the 2011 champions, outpoured their masterpiece entitled 'Light vs. Darkness' the hall of Kamuzu Institute for Sports was sent into frenzy as hundreds of hands were seen coming together for amazing and nonstop applauses.
"Eeeh! Komai nu ndiye mwawina kale! Ngati lero tawonera sewero ndiye ndi limeneri, ena onse aja ndiye ayi. (If today we've watched a play, then this is the one, the rest were trash).
'Ena aja adzilimbirana position 2 kumapita kwinako, chifukwa awawa ndi 1 kale." Such were the echoes from the audience as Pius XII were on stage.
But contrary to people's expectations, Pius XII failed to claim the first position. Instead the national championship went to Chichiri secondary school. The move turned the audience and students against the judges, as they argued that the results were not fair.
Malumbo Ngwira, a member of the audience, expressed dissatisfaction with the results saying that he was not impressed.
"I came here in the morning when they were starting and I've watched all of the plays. In my view, Chichiri did not deserve the first position instead it could've been Matindi Girls', Pius XII or Stella Maris because these schools dished out wonderful performances more than Chichiri. I wonder why the judges have chosen Chichiri," he questioned.
Concurring with Ngwira was Moses Kapito, a musician and actor, who simply said that "this is not fair."
Furthermore, some schools claimed that the decision to have Chichiri in first position was unfair and that the ruling was a result of Frank Mbewe, director of Chichiri, bribing the judges and the president of ATEM, Fanuel Mapira.
"Mapira anakambirana ndi Frank Mbewe. When we were coming they already had a winner," said an angry Mr. Chikumbeni, a teacher at Stella Maris Girls' Secondary school. Chikumbeni continued to say, "we had an independent person who sat just next to Joy Nkweteza, one of the judges, and this person saw Nkweteza giving Chichiri 97% just after the first fifteen minutes of their play, is that fair?"
"They're killing ATEM, that's not fair. ACB has to probe Mr. Mapira and Frank Mbewe," said Chipiliro, also a teacher at Stella Maris.
Fuming with anger was Hudson Gareta, director of Likuni Boys', who said this bribing practice should not be tolerated as it discourages schools from participating in the competitions to come.
"You see, we spend a lot of money preparing for this, so it's not fair to have others just to rape away the integrity of the competition, it hurts, seriously, it hurts," he said.
But when asked whether the accusations were true, Frank Mbewe denied the allegations saying he did not bribe the judges.
"You know, the plays that I direct are always successful and maybe that's why they're saying so. They're just jealousy. Let them say whatever they want to say, but I did not bribe anyone for my success," he said.
ATEM President, Fanuel Mapira described the complaints as just being disgruntled and that the competition was successful and properly organized.
"In a competition, losers always complain. They always find reasons to blame the organizers. On the issue of bribery, I know nothing and I cannot say anything on that," said the ATEM President.
Nevertheless, once a decision is made by the judges there is no reverse, Chichiri secondary school remains the 2012 ATEM Champions followed by Matindi Girls' and Pius XII secondary schools, in positions two and three respectively.
The competition also produced Wongani Munthali of Mzuzu government secondary school as Best Actress, Ernest Chavula of Chichiri as Best Actor while the Best English Speaker award went to Alfred Kaambankadzanja of Likuni Boys' secondary school.
The competition was sponsored by Multichoice Malawi, First Merchant Bank (FMB), National Library of Malawi and Malawi Properties investment Corporation (MPICO).
Subscribe to our Youtube Channel: