Ex-Minister of Natural Resources & Energy Goodall Gondwe and business tyrant Leston Mulli are reported to have influenced Malawi government to cancel a fuel supply deal with a Namibian company, Face of Malawi can reveal.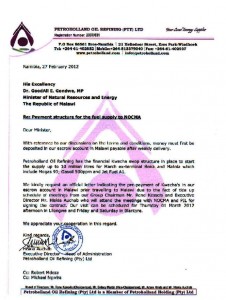 The Namibia Company, Petroholland Oil Refining Ltd, was yet to seal a deal with the Malawi Government to be supplying 10 million liters of fuel per week which included Mogas 93; Gasoil 500ppm and Jet Fuel A1. The company further proposed to the government that payment for the fuel was to be made in local currency 'MW Kwacha' which the company would use to buy farm produce such as pigeon peas, soya beans, groundnuts chick peas and maize thereby further benefiting the Malawi nation by leaving both the fuel and currency within the country.
In a letter dated February, 27, 2012 addressed to the then Minister of Natural Resources & Energy, Hon Goodall Gondwe, Hiskia Auchab, Executive Director for Petroholland proposed a meeting with the Malawi government officials and the delegates from the company were on 1st March, 2012 to finalize the deal.
But a week after the proposed meeting, Malawi Government called the meeting off in the eleventh hour without any explanation and through the Ministry of Agriculture and Food Security, Malawi government imposed ban on exporting of farm produce which included groundnuts, soya beans and pigeon peas. This was one of the set bags to the deal which forced the company to find alternatives. Petroholland through their Malawi Country Representative (name withdrawn) told Face of Malawi that their company decided to be exporting products from Unilever South East Africa Ltd as an alternative to the banned Malawian farm produce.
Mulli and Gondwe, who both run separate companies in the farm produce exporting industry later started running adverts on buying of the banned produce claiming it was for storage purposes to benefit the whole Malawi nation as last year there were cases whereby the government had to import the banned farm produce from neighboring countries, but when contacted for commenting on the matter, both Mulli & Gondwe's phone went unanswered and no response was given to a questionnaire that was emailed to them by Face of Malawi.
Further investigations into the matter have revealed that the Late President, Bingu Wa Mutharika was about to authorize the fuel deal if it was for the pressure he got from his greedy kinsmen.
Petroholland's fuel deal could not have only eased Malawi's fuel problems but, it was also planning to create about 500 job opportunities according to their business plan which is in our tenure.
Subscribe to our Youtube Channel: