Traditional, political and religious leaders in Phalombe district have asked government to construct a district hospital at its headquarters because people travel long distances to seek specialised health services.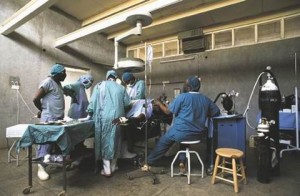 The call was made on Saturday in Phalombe South constituency at the launch of a constituency outreach programme by Institute for Parliamentary Support in Africa (Ipsa). The project seeks to foster constructive engagement between elected members and their constituents.
Paramount Chief Mkhumba told The Daily Times that since the district was declared an administrative headquarters, government has been promising to build a new district hospital to replace Phalombe Health Centre which has been serving the district over the years.
"We continuously look forward to government for the construction of a new health facility in the district where sick people travel long distances to Mulanje in order to access specialised treatment," Mkhumba said.
He therefore praised Ipsa's initiative which he said will help to bring closer members of parliament and the people they represent.
District Commissioner for Phalombe Atanazio Chibwana, emphasised on the need for local communities to be aware of the process of decentralisation in order to access development from government.
"It is good that MP's should face their people so that they can engage in dialogue where the representative might appreciate problems being faced by the masses. Today people have the opportunity to tell the MP and government what development projects they are looking for," said Chibwana.
Parliamentarian for the area Davison Nyadani promised to carry out the wishes of his constituents when parliament meets next week.
"This is a right forum for me as a parliamentarian to engage with various stakeholders many problems have been highlighted and the hospital is an outstanding challenge. We hope government will respond positively to our plight this time around," Nyadani said.
Ipsa's Co-Executive Director Kimberly smiddy said her organisation will hold the consultative meetings in all five constituencies in the district with funding from the government of the United States.
Subscribe to our Youtube Channel: