THE WOMEN'S activist group, ABANTU for Development has acknowledged Her Excellency Mrs. Joyce Banda as the President of Malawi following the death of the late President, Bingu wa Mutharika on Thursday April 5, 2012.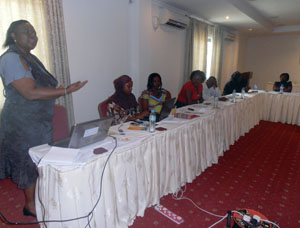 Mrs. Banda, who served as Vice President under the late President was constitutionally mandated to assume power in the event of the death of the incumbent President, and was thus sworn into office on April 7, 2012.
In a press release signed by the Director of ABANTU, Dr. Rose Mensah-Kutin, she expressed joy that the prominent women's rights campaigner, becomes the first female Head of State in Southern Africa and the second in the African Continent.
She said Mrs. Banda spent most of her life championing the education of underprivileged girls and gained international recognition for her activism and commitment to women's rights.
"ABANTU remembers her visit to Ghana in 2010 in connection with the 10th Anniversary Celebrations of the founding of the African Women's Development Fund (AWDF) as well as being a recipient of the AWDF's coveted 'Woman of Substance Award", she recollected.
According to her, as a women's rights organisation, ABANTU considers the ascendency of her Excellency to the highest office of Presidency as significant in amplifying women's voices and visibility in public life.
Thus, "We are hopeful that H.E. Joyce Banda's long history of struggle to promote women's rights and gender equality will be a source of inspiration to other women interested in politics and transformational change."
She added that this experience in human rights and women's rights promotion should serve as the guiding principle of her administration of Malawi, concluding, "We extend our warm felicitations to her Excellency, Mrs. Joyce Banda, President of Malawi."
(Visited 21 times, 1 visits today)