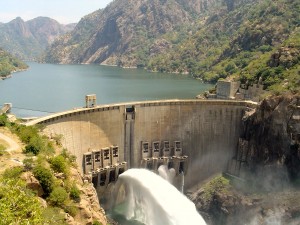 Malawi delegation leaves Thursday for Mozambique to discuss the finer details of the electricity interconnection deal.
President Joyce Banda went to Mozambique last month to mend fences with Malawi's neighbour Mozambique after a period of uneasy relations between the two countries.
Among other engagements, President Banda signed a wider energy sector Memorandum of Understanding (MOU) amid expectations of a deal on the interconnection project as well.
Confirming the roundtable talks on the deal, Energy Minister Cassim Chilumpha said the Malawi team would negotiate for a viable deal.
"We previously just signed the MOU on the energy sector; the next stage is now to discuss whether or not it will be possible for Malawi to access electricity from Mozambique under the interconnection agreement.
"We will definitely discuss the viability of the deal in terms of cost as well and negotiate," said Chilumpha.
He said the formal talks will take place at the invitation of the Mozambican government but he said the new administration was keen on the project as it would benefit more.
Supported by the World Bank as an option to ease the nagging electricity woes Malawi currently faces, the electricity project was despised by departed Malawi leader Bingu wa Mutharika for its cost.
On these fears, Chilumpha said government would negotiate with Maputo for a deal Malawi's taxpayers can afford.
"Government is very interested in the project. It is an agreement that has advantages to both sides. There are many parts of Mozambique which can only access electricity using the Malawi grid and the same applies to us," Chilumpha said on Monday.
Apart from the interconnection deal, the two countries are also poised to soon tackle issues related to the Shire Zambezi waterway project that allows Malawi to open up the Zambezi River for transportation by ships and barges through Nsanje World Inland Port.
However, Mozambique has demanded a feasibility study first.
Subscribe to our Youtube Channel: